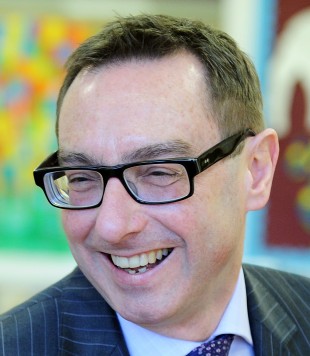 The view from my bedroom window as a child was dominated by a magnolia tree.  It grew fast and strong, much quicker and stronger than I did!  Mrs Jenkins[1] can also see a magnolia tree, heavy with blossom, from her bedroom window, but she is in the autumn of her life and in Castel Froma, a specialist care centre, where she is rehabilitating from a brain injury.  It is not perhaps the place she would wish to call home, but it is where she lives and where she also receives regular therapy to improve her mobility, coordination and memory.  She is in a very special specialist care centre – it is so much more than a care home, a residential home or nursing home: Castel Froma satisfies all these needs and many more.  My visit there, and to their sister facility the Helen Ley specialist care centre, was hosted by Helen Finlay, director of care and Robert Pearce, chief executive.  It was inspiring, moving and challenging.
The values and behaviours of Compassion in Practice[2] were strongly evident and I saw compassionate care consistently, but the challenge this environment posed for me is to reconsider the implied passivity of "care".  Protecting and maintaining health and welfare is of course unarguably important, but what about nurturing and improving? What Mrs Jenkins was getting was undoubtedly compassionate care but she was also getting rehabilitative, therapeutic care – from a highly skilled and knowledgeable team.
The team were enthusiastic and committed to this demanding type of care and I was struck by its complexity.  The needs were so varied, the age range so wide (from 18 to 92) and ever changing clinical conditions need expert judgements about how to adjust care plans with the most appropriate interventions.  And yet it is also completely personalised.  Not just is the care effectively person centred, but so are the living environments.  Those who are there for long periods are encouraged to personalise their rooms.  There was the Stars and Stripes room (one wall being a huge US flag – with glow-in-the-dark stars), the purple room and the "sexy pink" room (sexy pink being what the colour on the paint chart was called and chosen by a 92 year old because she loved its name).
Walking down the still imposing staircase of this converted mansion from the bedrooms, the smell hit me: it was lunchtime and the food smelt so appetising.  With their own kitchen on site the staff had been able to put in special efforts to make meals attractive and appealing and individual.  A white board listed all the people needing cooked meals, their likes and dislikes as well as the consistency the food needed to be to help them swallow.  It also listed their clinical needs such as requiring a diabetic diet.  The dieticians, speech and language therapists, nurses and care assistants clearly collaborated well with the chef to personalise the meals.  And Margaret, the chef, is more than willing to take the extra step of moulding pureed and soft diets so that they are served in shapes to look like real food and not the sloppy compromise I remember from my days as a nursing auxiliary in the last century.  So here was pureed sweet corn that not only tasted like sweet corn, but looked like it too.  The same was also true of sausages, quiche, pears and many other foods.
After lunch was quiz time for those who wanted to participate.  The activities coordinator had gathered about a dozen people around a table in the lounge.  All were in wheelchairs of various types, some able to propel themselves independently, some with motors and some who needed help from others all the time. And Miss Barnes was there in her bed with her elderly mother by her side (who visited every day – except the occasional Sunday) – being bed bound did not mean having to stay in her room, she was moved around as she wished so she could join in with whatever she fancied – or not, her choice.  In this group was also the determined Mr Williams who had clearly experienced a significant brain injury – not to put too fine a point on it, from the view I got he was missing most of his left hemisphere and the skull that should have covered it. He was transferred from hospital with low expectations for rehabilitation, but he is now able to feed himself, communicate his needs and enjoy the company of the friends he has met at Castel Froma.
Moving out of the lounge another smell hit me: the faintest whiff of chlorine from the hydrotherapy pool: a fabulous facility which those with even the most compromised ability find beneficial.  It's a very expensive therapy, costly to maintain and intensive to staff, but very heavily used.  It's even open two days a week for people who live locally to use for their own prescribed exercises and therapy.  The local commissioners argue there is no evidence base to hydrotherapy so don't fund it, but there is a strong clamour for it to be maintained and, if Castel Froma is ever replaced with a new, modern building (as is the long term plan) it is going to be difficult to justify the additional £1 million it will put on to the cost of a new facility.  That's a really difficult message for Mrs Rogers to hear – because of her condition she will never swim with her children again.  So, the staff engineered that for her recent birthday she had special hydrotherapy – and her children joined her in the pool for a surprise party.
Round the corner are the dry therapy rooms where I was introduced to a physiotherapist and two occupational therapists.  They were each completing their notes from the morning's assessment.  Kylie, the physio had been out to assess a patient who was due to be transferred from hospital.  She was making sure all his immediate needs were recognised and that his rehabilitative needs were properly planned.  A complex task, not least making sure he could go into a room with a weight bearing ceiling with a suitable hoist.   She also showed me a white board which summed up the needs of all her patients.  It was a series of pictures which showed what each patient needed – passive exercises, walking between parallel bars or a repeat assessment for example.  But it wasn't for her, it was for the patients, so, at the start of the session, they could be reminded of what would happen that day and what their goals would be.  It was so important to her that the cognitively impaired patients should be aware of what was happening and plan with them how they would use the session and to be sure all the exercises had a therapeutic purpose.
Intriguingly, the occupational therapists, Sarah and Suki, were also using pictures to help communication.  This time it was for the staff and to be retained in the patients' notes.  Their morning wheelchair assessments had resulted in adjustments to a number of wheelchairs to reflect the users' changing needs.  Although there was a written record of what they had done, they have found that before and after photos are much more eloquent and result in much more accurate communication within the team.  Simple, but incredibly effective.
The Helen Ley specialist care centre has a different clientele with people with neurological dysfunctions of various sorts: MS, motor neurone disease and Duchene muscular dystrophy for example.  This is a single storey centre with all the advantages of being purpose built unlike parts of Castel Froma.  Not so many of the rooms were personalised because the people here sometimes stay for short periods as respite for their carers.
The dependency was high – and so was the acuity, it's a shame acute care has become synonymous with hospitals when people with acute needs can be cared for in any setting.    All the residents were in wheel chairs of various sorts. And they also take patients who have complex respiratory needs, more complex than you would even see routinely on a general medical ward in a hospital, but it is the type of care I am sure will be seen more often in such very specialist care centres.  The staff at Helen Ley have responded to such challenges flexibly and in a superbly personalised way.  They have for example , following a grant from the Burdett Trust for Nursing, refreshed their intravenous drugs administration skills in collaboration with the local trust so that, if a patient's condition deteriorates through infection, they don't move the patient into hospital they can give IV antibiotics at Castel Froma and Helen Ley.  This works well with the regular GPs during surgery hours, but is a challenge at other times.  Some doctors think such highly dependent patients need moving to be assessed in hospital instead of the doctor coming to the patient.  Despite their best efforts at putting the patient at the centre of care sometimes the system demands the opposite and revolves, quite unnecessarily and wrongly, around the professional.
But I don't think Mr Wallis would be dissatisfied with his personalised care. Despite saying he was paralysed from the neck down because of a bicycle accident he was regaining movement in his arms and legs.  He was sitting in his wheelchair and doing his cycling exercises.  The monitor on the cycle showed his left leg was stronger than his right, so he was keen to demonstrate to me, and prove to himself, he could push himself to use his right leg more – and he did.  He also showed me he could now move his arms to chest level and was determined to improve his movement so that, one day, he could possibly reach his mouth and feed himself.  What an inspiration.  And this was a man discharged from hospital who was not expected to regain any limb movements.  He and the team at Helen Ley were not willing to accept that improvement was impossible.
The quality of therapeutic care was unquestionable, and so was the physical care.  That was obvious just looking at Mr Wallis – he was clean shaven (clearly not something he could do for himself) to a standard any man would be happy with, properly dressed and with clean, manicured finger nails – I know it's a detail but dirty and unkempt finger nails are so telling.  And he was typical, great care had been taken with each of the patients to look their best.
The magnificence of the magnolia was an evocative reminder that, should my time come to look longingly at a garden from a wheelchair needing specialist care and support in the autumn of my life, I would be happy to be at Helen Ley or Castel Froma specialist care centres in the capable hands of a very talented team.
David Foster
Deputy Director of Nursing/Midwifery Advisor

Department of Health
---
[1] All the patients' names have been changed.