I am delighted to have a very special guest blog on my page today to accompany the launch of the new material on School Nursing launched today. Lauren Goddard is a young carer who I had the pleasure of meeting earlier this year. She has proved an inspiration to us all with her attitude and determination and I hope you will take inspiration from her blog - Viv Bennett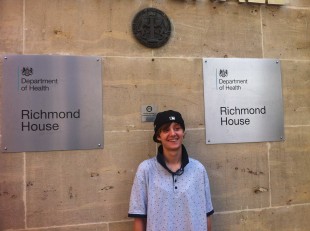 As an intern at the Children's Society and because of my personal experience as a young carer, I was involved in the School Nurse Champions for Young Carers training day in June.  At the training my colleague and I shared our experiences as young carers and the challenges we faced.
We interviewed the school nurses to get a feel for what school nurses could do to support young carers. They came up with some good ideas and I enjoyed every minute. I found it very helpful and interesting to see what the school nurses are going to be doing in the future.
At the end of the day I was invited to spend a few days in the Department of Health to find out what it does and how it works - I was keen to take up the opportunity!
Plans were soon put in place for me to come to the Department!  I hadn't been to London on my own, I was scared, nervous and excited all at the same time. It was crazy to think that I was going to be doing it all on my own with no-one there to run to if something went wrong.
On the first day I went to the King' s Fund to meet the Head of Patient Experience (Children and Young People) from NHS England to find out about her role and to go through the agenda the next meeting, which was about using surveys to capture children's and young people's experience of health services.
At the meeting there were 30 or more people from so many organisations present. We discussed how to ensure the right questions are used and to ensure surveys are designed  so that children and young people will want to complete them!  I was asked for my views and I was able to share what I felt would work with children and other young people
I felt privileged to be asked for my views and ideas, I was nervous at the same time as I was still not 100% sure on all the info but I felt that I did very well and hope that I helped shape some new ideas.
On the second day I went to Richmond House to have a conference call with the Royal College of Nursing  freelance writer and editor. He was developing a new e-learning module for school nurses and wanted my views. He asked me about my past experiences about being a young carer; how it made me feel? Did I feel like I had the support and help I needed at school?
I really enjoyed speaking to him and I felt privileged that he wanted to speak to me. It was crazy to think that he wanted to know about my past experiences. I then met up with the Professional Officer for School and Community Nursing at the Department of Health and we went to a Carers Group meeting about adult and young carers. I learned about how district and community nurses can support carers – and the work the department is doing to ensure better support is provided!
Then I met up with the business manager of public health nursing team, Department of Health.  She gave me an inside look into what she does. We had a really good conversation, she asked me a lot of questions about what I want to do in the future and about me as a young carer.
After spending two days in London by myself, I've realised not to be scared of travelling or experiencing new things, the 2 days provided me with an experience I shall never forget. It was overwhelming trying to take all the information in but I know that I  learned so much - even though my brain has gone into melt down right now! It's the most amazing experience I've had so far.
Lauren Goddard