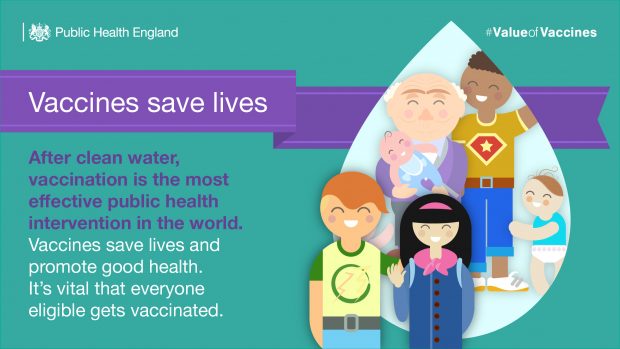 Immunisation is an established means of controlling and eliminating life-threatening infectious diseases and the World Health Organisation (WHO) has estimated it averts between 2 and 3 million deaths globally each year.
Immunisation led to the global eradication of smallpox, and in 2002, the European region was declared polio free by WHO. Nurses, midwives and health visitors are central to the delivery of successful immunisation programmes throughout the life course.
High quality immunisation programmes in England have led to significant reductions in the incidence of infectious diseases such as measles, rubella and bacterial meningitis and septicaemia. Despite the successes of immunisation programmes, some infectious diseases are re-emerging because of under-vaccinated populations, for example the recent measles outbreaks in Europe and North America.
Immunisation benefits the population throughout the life course and in the UK we are fortunate to have a comprehensive immunisation programme that helps protect our population's health. For example, rubella immunisation before conception protects the unborn baby from congenital rubella syndrome. Maternal immunisation, delivered by both nurses and midwives, protects the pregnant woman, the foetus and babies from birth from influenza, whilst maternal immunisation with pertussis containing vaccines protects the new born baby from birth against whooping cough.
The routine childhood immunisation programme, delivered mainly by general practice nurses and supported by health visitors, protects infants and children from a wide range of infections such as bacterial meningitis and septicaemia, whooping cough, diphtheria, hepatitis B, rotavirus and measles. Important vaccines are given to adolescents, often by nurses working in schools, which include the Human Papillomavirus (HPV) vaccine, currently offered to girls and being extended to include boys from September 2019. The success of this vaccine in reducing pre-cancerous conditions of the cervix in women is already being seen.
As we get older, changes to the immune system's ability to fight infection reduces. Immunisation can play a role in protecting the elderly from infections such as influenza, pneumococcal infection and shingles. The 2018/19 influenza season saw the introduction of an influenza vaccine which better protects the elderly, and 2019/20 will see the use of this and other vaccines to further protect the elderly from influenza. Nurses working in both general practice and schools are pivotal to the success of the annual influenza immunisation programme across all age ranges.
Central to the success of immunisation programmes is patient confidence in immunisations and effective means of delivering the vaccines to the eligible population. Data from PHE's attitude surveys shows that parental confidence in immunisation of new born babies is high and evidence elsewhere also show high levels of confidence in other immunisation programmes, such as flu and pertussis immunisation in pregnancy. Research from PHE indicates healthcare professionals remain the most trusted source of vaccination information for parents.
Despite the successes of national immunisation programmes, there is always room to improve uptake and some individuals may have missed immunisations leaving them vulnerable to preventable infection. This is particularly important where doses of measles, mumps and rubella (MMR) vaccine may have been missed in childhood. It is never too late to immunise with MMR and no opportunity to check immunisation history and offer missing immunisations should be missed. Opportunities to check and offer MMR vaccine include at age 10 and 11 years via general practice (from April 2019, GPs in England can claim a fee for checking the MMR immunisation record and immunising those who lack two doses of MMR vaccine) and alongside routine adolescent immunisations such as HPV, MenACWY and Td/IPV.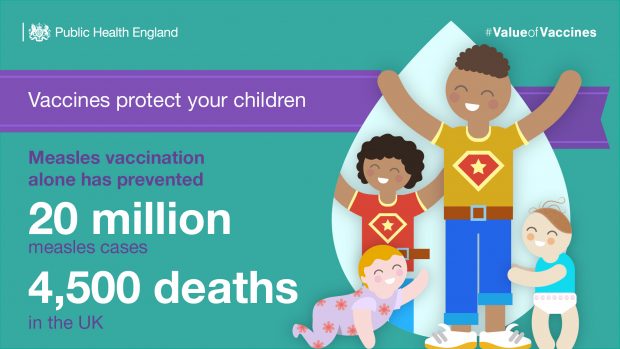 Receiving two doses of MMR will help protect individuals against future infection with measles and provide protection against rubella, which is important for females of childbearing age to protect unborn children from the potentially serious effects of rubella infection during pregnancy.
Each year in England, millions of doses of vaccines are administered to eligible groups as part of national immunisation programmes. This would not be possible without the commitment and clinical skills of practice nurses, school immunisation nurses, midwives, health visitors and others. Using evidence of vaccine safety and efficacy, these health professionals are at the forefront of vaccine administration and advocacy, their contribution to population health should not be under estimated.