"Creating healthy and supportive workplaces is no longer a nice to have, it's a must-do." Simon Stevens, Chief Executive of NHS England, 2015.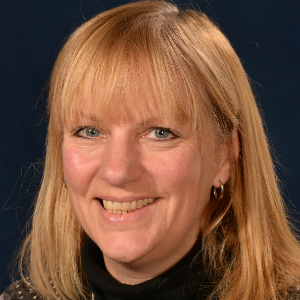 Health and care professionals use their skills and knowledge every day to help keep others well or in treating those who are ill, but it is just as important you look after our own health and that organisations are supporting a healthy work environment. There is strong evidence that good quality work is generally beneficial for health and that, within health care, promoting wellbeing impacts on the health of both patients and staff. There is also an important role for each individual employee to promote and support good practice for health in the workplace. By championing and applying good practice across an organisation we can also carry the benefits into the community.
In the UK, in all forms of employment, 31.2 million working days were lost due to work-related ill health and non-fatal workplace injuries in 2016/17[i] and the estimated cost to the NHS of staff absence due to poor health is around £2.4bn a year. Mental health and musculoskeletal problems are the two biggest causes of sickness absence across the NHS. Good job design and good people management practices reduce the risk.
This blog is to highlight how, through a place-based approach, organisations, teams and individuals can make a difference. The townscape below shows just some of the wide range of facilities and services vital to the delivery of health and wellbeing in the community and how building health and wellbeing into our places of work we can make it and the community a healthier, happier and more productive place to be. Many of the examples will be relevant to all places of work.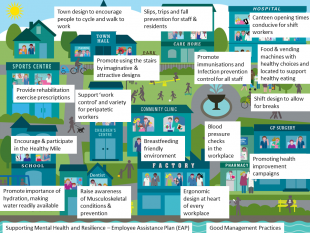 The first three commitments in 'Leading Change, Adding Value (LCAV),' the national nurses, midwives, health visitors and care staff framework, all focus on health promoting and prevention and  we have recently published the 3Ps professional guidance to support practice and leadership. This may also be of interest to other health care professionals
The guidance for health in the workplace is shown below. I am asking that every one of us 'acts now' by looking at what works and including in our practice and organisations to maximise the health of the workforce.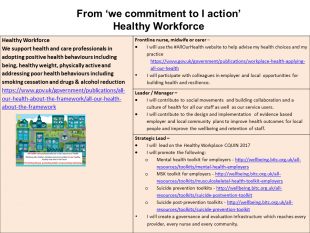 Access links for the Healthy Workforce 3Ps page here
Find out more on what PHE has been doing to celebrate International Nurses' Day on the PHE blog page
Viv Bennett is Chief Nurse and Director of Maternity and Early Years at Public Health England