"...there is no magic bullet. It is going to take continued effort from all of us in Government, local communities, industry and individuals. Each and every one of us has to play our part if we want to be the first country in the world to reverse this trend." Dame Sally Davies, Chief Medical Officer, speaking about obesity in 2014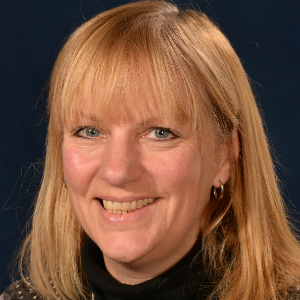 As health and care professionals, we know that excess weight and obesity and can lead to serious ill health, increases the chances of non-communicable diseases and of early avoidable mortality.  Furthermore, that it is and many continue to cause increasing pressure upon health services and resources.  We also know that the causes are complex and often multi-factorial and so are the solutions. We need to address what is termed the obesogenci environments in which we live and work to support people, families and communities in their health choices for a healthy diet and physical activity. Part of the solution is for us to maximise the impact of health and care professionals' everyday interactions and place best interventions.
This blog shows how health and care professionals can contribute locally through health promoting practice and leadership. The townscape below shows just some of the wide range of facilities and services vital to the delivery of health and wellbeing in the community.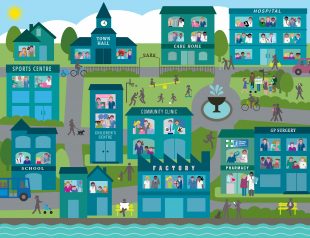 The next townscape below shows examples of how health and care professionals' interventions can take 'place.'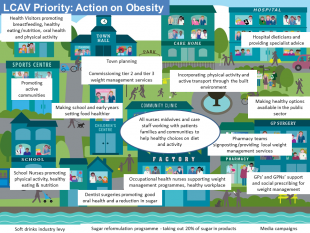 Some health care professionals tell us that they find starting conversations about weight difficult or are not sure how to start. However , we know that it is really important that we do so and signpost and support people to success in managing their weight and benefitting their and their family's health. If you would like more information on this have a look at our blog on this and on having a motivational conversation.
For further advice and support on Obesity check out the All Our Health resources on both childhood and adult obesity [links]
The first three commitments (1) in 'Leading Change, Adding Value (LCAV),' the national nurses, midwives, health visitors and care staff framework, all focus on health promoting and prevention and  we have recently published the 3Ps professional guidance to support practice and leadership. This may also be of interest to other health care professionals.
The guidance for obesity is shown below. I am asking that every one of us 'acts now' by looking at what works and including in our practice to maximise our contribution to reducing obesity and maintaining a healthy weight for all.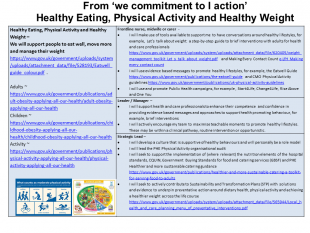 Access Healthy Eating, Physical Activity and Healthy Weight Guidance here
Find out more on what PHE has been doing to celebrate International Nurses' Day on the PHE blog page
Thank you
Viv Bennett is Chief Nurse and Director of Maternity and Early Years at Public Health England
Footnote:
(1) The three health promoting and prevention commitments from Leading Change, Adding Value are:
We will promote a culture where improving the population's health is a core component of the practice of all nursing, midwifery and care staff
We will increase the visibility of nursing and midwifery leadership and input in prevention
We will work with individuals, families and communities to equip them to make informed choices and manage their own health