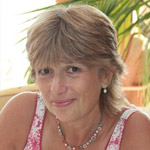 Inspired by hearing the voices of young people at the School Nurses International Conference 2015, 'Kissing it Better' has now forged valuable links with School Nurses in many areas
Across the country, we work with, mainly, 16-18 year old students in hospitals and the community to help them gain valuable work experience.  Whether they are studying beauty therapy, hairdressing, singing, art drama, public service or health & social care, we encourage them to bring their specialized skills to lift the mood of, mostly, older patients.  The effect is very moving for patients, visitors and staff and also increases the confidence and awareness of the students, many of whom are now considering a career in nursing.
Over the last year, we have seen other benefits too; our students are being asked to share their thoughts on healthcare with school nurses, doctors, youth workers and others involved in Children and Young People's health services. They have joined Youth Forums and have seriously started to influence the care that will be available to young people.
Students from City and Islington College came to Whittington Health NHS to gain vital work experience needed for their health and social Care course.  As part of that experience, they met school nurses who stressed the importance of young people 'having their say'.  The students linked with the nurse consultant and consultant pediatricians within Whittington hospital.  Soon the students were offering their opinions at health conferences, alongside school nurses, doctors, medical students, and other practitioners.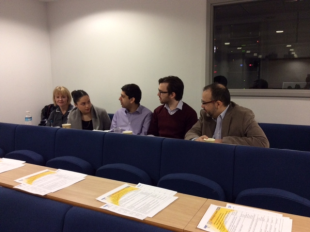 To hear a young health and social care student old stand up at a conference and confidently tell the audience that a myriad of health scares, told endlessly through the media, were not affecting her decision to give up smoking was both concerning and fascinating.  She didn't believe she was addicted to cigarettes and she didn't think they might kill her.  It was only when she worked out how much she was spending on cigarettes every year that she seriously thought about stopping.  And that made us all think too. She explained how many nightclub trips and handbags that money would buy. We reflected on how a change of approach should be considered; asking young people rather than telling them what to think?  Of course there are inspirational people working hard to make that happen, but there is still so much more that can be done.
The chance for young people to share their brilliant ideas has had a much wider effect. Their, often, moving responses to having their say have touched us all.  We may be older, but we all love to feel valued. Sadly, that doesn't always happen enough within the NHS. So, when this text was sent by a student to the school nurse, nurse consultant, consultant paediatrician  and other key people who had listened to her, learned from her and then offered support, the effect was profound.
'Thank you for being such an amazing inspiration and role models.  I admire what you do.'  Health and Social Care student, City and Islington College.
For a young person accessing health guidance at a key point in their life, a few well-chosen words, given in confidence by a school nurse or other health care professional who is both visible and accessible, and who can, if necessary, signpost them to support, can make a massive difference.
And, as the student's short text message demonstrates, a few well-chosen words from a young person can make a massive difference to health professionals too.
For the inspiring 'Kissing it Better' rendition of Visible, Accessible and Confidential – school nursing by song visit School nurse song
Jill Fraser, Director & Co-founder, Kissing it Better