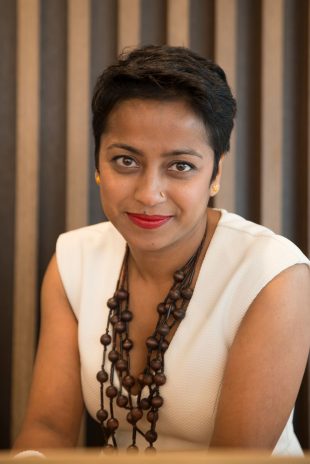 The 2016 focus for World Mental Health Day was 'psychological and mental health first aid for all' – a theme which lent itself really well to engaging lots of different communities with an important public health message.  As the CEO of Mental Health First Aid (MHFA) England I was very keen to develop a meaningful campaign in the lead up to this calendar event but one which offered a long term benefit rather than just short term awareness raising.
In early October we launched the 'Take 10 Together' campaign. The core message was aimed at employers, universities, colleges, schools – in fact anyone - to have a conversation with someone about their mental health and wellbeing.  We named it 'Take 10 Together' for lots of reasons, but the key one was because we know that one in every ten children (that's three in the average class of 30) will have a diagnosable mental health condition.  One of the most shocking adolescent mental health statistics I have read about in recent times is that in the past year almost 20,000 young people contacted Childline with suicidal thoughts – that's more than double the number five years ago.[1]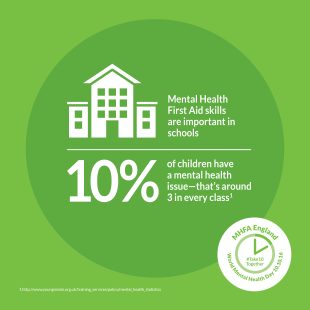 These kinds of statistic need to change if we are ensure our future generation of adults are mentally healthier and more resilient.  Schools, and of course parents, have the opportunity to take an active role in guiding a young person towards the appropriate support but sometimes there is a lack of confidence or knowledge around how to give that support.
We don't often talk about our mental health so it might seem a little daunting to start a conversation about it but it's important to remember you don't have to be an expert.  Giving a young person the opportunity to open up and have a conversation about their mental health can play a vital role in reassuring them that help is available and then signposting them to appropriate support.  Having a 10 minute chat is the first step on that journey.
Creating a safe space
Give yourself plenty of time so you don't appear to be in a hurry - 10 minutes may be enough but if you need longer then go ahead. Choosing a neutral space to meet might feel less intimidating and it's important to use a quiet and comfortable setting.(Link to Take Ten: take-10-together-in-schools-1)
How to ask the questions
Keep your body language open and non-confrontational
Be empathetic and take them seriously
Keep the chat positive and supportive, exploring the issues and how you may be able to help
 Useful questions to ask:
"How are you feeling at the moment?"
"How long have you felt like this – is it an ongoing issue?"
"Who do you feel you can go to for support?"
"Are there any factors outside of the classroom which are contributing to how you are feeling?"
 How to listen
Give the student your full focus and listen without interrupting
Listen to their words, tone of voice and body language - all will give clues to how they are feeling
What happens next?
Once you've started the conversation, make sure you keep it going - follow up with the person and ask them how they are doing. Reassure them that your door is always open, and really mean it.
Give reassurance that there are lots of sources of support and some of these might be available via through a school counselling service, by visiting their GP or talking to the school nurse.
For more guidance around how to approach and respond to a student who is experiencing a mental health issue you can train to be a Youth Mental Health First Aider. Please visit http://mhfaengland.org/first-aid-courses/first-aid-youth/
Poppy Jaman is co-founder and chief executive of Mental Health First Aid (MHFA) England and also sits on the board of Public Health England as a non-executive director and advises on mental health issues.
[1] https://www.nspcc.org.uk/fighting-for-childhood/news-opinion/childline-contacted-50-times-day-suicidal-thoughts/
Also check out Public Health England's All Our Health, a call to action for all health and care professionals to  embed and extend prevention, health protection and promotion of wellbeing and resilience into practice. All Our Health provides a framework and tools and resources to support this 'health promoting practice' with quick links to evidence and impact measures and top tips on what works, this includes a Wellbeing in Mental Health topic. #AllOurHealth