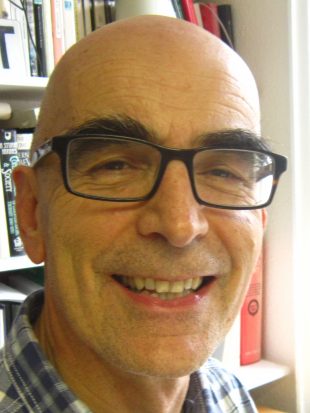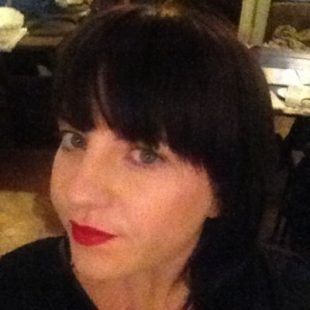 Our health is both a cause and consequence of the conditions in which we grow, live, work and age. Influences on our health begin with our immediate families and communities, and extend to the wider built and social environment. 'Jobs, homes and friends' are widely recognised as being key to good health. At the same time, poor health affects our ability to participate at each of these levels, often leading to long-term unemployment, poverty and social isolation.
It is unsurprising, then, that families with complex needs are among the most vulnerable and excluded in society. This has an impact not only on individuals and families, but also on wider society and public services at significant cost – with one estimate suggesting this could be as much as £9bn per year.
The Troubled Families Programme was launched in 2011, and initially targeted 120,000 families to tackle worklessness, anti-social behaviour and truancy. Evaluation of this first wave of the programme revealed that families each faced nine problems on average, including those relating to physical and mental health: over two thirds had a health problem, with a third having a long-standing illness or disability. Almost half of the adults and a third of children had a mental health problem.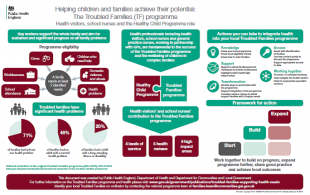 In order to acknowledge this range of problems, a second wave of the programme was launched in April 2015. Three further themes – domestic violence and abuse, vulnerable children, and mental and physical health – were added to the original themes. This second wave is due to run until 2020 for up to 400,000 families, backed by £200m a year. Individual families are supported by family support workers, who help them to access the care and services they need and work proactively to address their problems.
A 'health offer' was developed on the introduction of the second wave to support local troubled families teams and health professionals (https://www.gov.uk/government/publications/troubled-families-supporting-health-needs). It is currently being refreshed in partnership with PHE, NHS England, DCLG and the LGA to help embed health in the programme, and to address some of the challenges of joint working.
While much of the programme focus has been on mental health and substance use issues, we are  working to increase take-up of public health issues through the refreshed offer, such as smoking, obesity and oral health. There is also a greater focus on early childhood, which has consistently been shown to be crucial in laying the foundations for health and wellbeing throughout life.
Health matters to troubled families because it is integral to the problems they face and to their solution. Local health professionals - such as health visitors and school nurses - have a key role to play in helping these families address the complex needs they face, and fulfil their potential.
Ray Earwicker, Lead for Troubled Families, Homelessness and Wider Health Inequalities , Department of Health
Emma Scowcroft, Policy Manager for Troubled Families, Department for Communities and Local Government