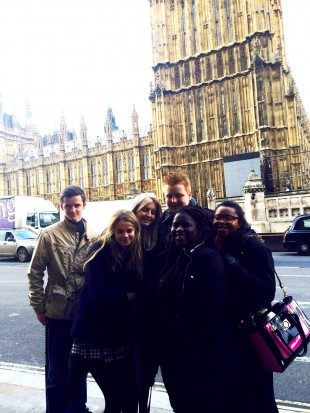 Last week we saw the launch of 'Takeover day 2015' – the Children's Commissioner for England's fun, hugely successful and exciting children and young people's national engagement project. The project encourages organisations across England to open their doors to children and young people to take over adult roles. It puts children and young people into decision-making positions and encourages organisations to hear their views.
Like many organisations Public Health England (PHE) readily rose to the takeover day challenge, today a group of young people will present at the Public Health England Board. They will hear from senior officials about our commitment to improving the emotional health and wellbeing of children and young people; and importantly they will provide their insights and reflections of what matters to them. Lisa, one of the young people told us:
"Young people's health and wellbeing is important to me because I think a society where young people are informed and empowered can help us make positive decisions that will impact our lives. I hope to learn about the different roles people play in Public Health England and understand why certain decisions are made. I will be going into the meeting with an open mind and a willingness to learn and understand, as well as share my views and opinions on young people's health and wellbeing."
Takeover day provides a fabulous opportunity to remind ourselves of why we do what we do and why we are so passionate about improving access to services for children and young people. Take over day should not be seen as a stand-alone one off annual event, its one episode in a journey of active engagement. Over the last few years we have embraced this concept, we have worked with key partners such as the British Youth Council (BYC) and North West Regional Youth Work Unit (NWRYWU) to shift the balance from consultation towards effective active engagement which includes co-design with young people.
Our journey has been a roller coaster of fun, listening, learning, and importantly action, all too often young people tell us they were 'consulted with' but nothing ever happened or changed. We may not get it right all the time but we can perhaps be proud of where we have made a difference. Our work with young carers training school nurses to be 'carer aware' is a good example, which was awarded the Penguin award from the prestigious Academy of Fab NHS Stuff. We now have over 500 school nurse champions for young carers – and the numbers are still growing.
We can engage in many ways, and young people always rise to the challenge. We co-hosted the School Nurse International Conference this year with the School and Public Health Nurse Association (SAPHNA), no mean feat; 4 days, 30 key note speakers and 40 master classes. The international speakers provided evidence, food for thought and challenged the 300 plus delegates – however they were definitely upstaged by the young people who each day through song, drama, art, poetry and the spoken word guided us through their world, their challenges and how they can make a difference to their own lives and indeed others if they are effectively engaged and respected.


Engaging with children and young people is essential if we are serious about ensuring services are fit for purpose and responding to local need. Developing good engagement processes can help deliver this, additional effective engagement includes co-design thus enabling children and young people to be effective contributors, responsible citizens and in demonstrating that they are included, respected and responsible.
Today we want to reflect on what we have achieved and indeed what we can do to as we go forward – ensuring children and young people are 'Upfront and Centre'. The journey will continue and we anticipate it will be provide a kaleidoscope of rich experiences – which you can only get from working with children and young people!
A special thanks to:  all the young people who have supported our work through BYC, NWRYWU, Diana Awards, Children's Commissioner Amplify group, Department for International Development FGM, Youth Panel, Children's Society, Carers trust, Kissing it Better and NHS Youth Forum.
Wendy Nicholson, Lead Nurse, Children, Young People and Families, Public Health England