Last week, thousands paid tribute to the armed forces.  Remembrance Day provides an opportunity to reflect on the past, present and future contribution our service personnel make. As a nation we have a moral obligation to members of the armed forces and their families, and how they should expect to be treated (The armed forces covenant (2011)). Serving personnel may be separated from their families, or the family unit may be posted away from their extended family or local community – both provide opportunities for new experiences and may present challenges.
For the armed forces community, the covenant is about removing disadvantage to ensure armed forces and their families get the same outcome as the civilian community.  The life experiences of children of service families are unique.  They are often exposed to unique experiences, which may include: separation from a parent, frequent moving of house or school, caring for a sibling or parent, taking responsibility for the household or sudden deployment to a combat zone, all of which may impact on the way children lead their lives both now and in the future.
We know military families are well supported by health services within the armed forces. Over the last year, Public Health England and Department of Health, together with NHS England, have worked with health professions, both civilian and military and welfare services including SSAFA, Naval Families Federation and Army Families Federation, to raise awareness of the challenges military families may experience and to seek opportunities to provide seamless support.
Health professionals such as health visitors and school nursing teams are well placed within local communities to support both serving personnel and indeed those families being re-based or returning to the UK. Today we publish professional guidance to support health visitors and school nurses to work with key stakeholders, including early years and education providers, in identifying children of military families and to work with parents to improve the health outcomes, particularly in terms of emotional health and wellbeing.
The guidance recognises the importance of effective communication between NHS and military services and the vital role welfare services play. Working together to support military families is so important and can be achieved through effective communication, information sharing, collaboration and joint working. We all have a part to play in raising awareness of military families and their unique experiences; together we can help to ensure our serving personnel's families are not disadvantaged.
We recently hosted an exchange visit with academic colleagues from the USA who specialise in support for veterans. The day was informative and provided an opportunity to review our guidance prior to publication.  We also were invited to present at the first Joining Forces Across the Atlantic to Restore Lives conference. At the conference there was avid interest in the guidance from both England and across the pond – perhaps next year health visitors and school nurses from the UK will submit abstracts for the second annual conference and share their fabulous examples of support?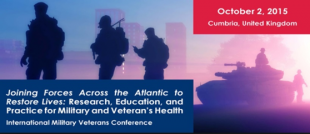 Wendy Nicholson, Lead Nurse for Children, Young People and Families, Public Health England