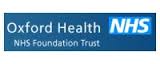 Health visitors are one of the best placed professionals to support parents during the transition to parenthood which includes support for women with mild to moderate perinatal mental health difficulties, including postnatal depression and anxiety. In 2010 Health visitors in Oxfordshire identified an increasing number of women experiencing perinatal mental health difficulties; however the majority of these women did not meet the threshold for specialist services. The health visitors were motivated to improve their perinatal mental health service as extensive research highlights that effective prevention, early detection and high quality care can often prevent or significantly lessen the symptoms and may have a positive impact on the long term health and wellbeing of children and families across England.
The health visitors developed a multidisciplinary Perinatal Mental Health (PMH) Special Interest group with comprising health visitors, skill mix staff and representatives from the Infant Parent Perinatal Service. This group continues to evaluate service provision and facilitate changes in service delivery, alongside promoting excellence in health visiting practice. Five health visitors became Institute of Health Visiting (iHV) Perinatal Mental Health Champions and are continuing to cascade the Department of Health endorsed training programme to all Health Visitors in Oxfordshire. A blended learning approach aims to equip staff with a sound evidence-base for practice along with skills to enhance psychosocial assessment of perinatal mental health and delivery of active listening visits. These contribute to early intervention, support and referral for women and their families. Ante- and Post-Natal appointments have been improved as all health visitors are now using the "Promotional Guide" approach which promotes early bonding and attachment, development and transition to parenthood, connecting with parents' motivation to do the best for their child.
Women with mild to moderate depression are now offered a 10 week evidence and strengths-based therapeutic group programme which includes a session for their partners. Groups are run in partnership with Children's Centres and crèche staff receive training to enhance the experience for mothers and their infants. Evaluation and quantitative and qualitative data are important for all groups to inform service improvement. The results have been positive and are based on 41 women who attended five groups between May 2011 and July 2013. Overall, scores which assessed mother's anxiety and depression (EPDS and the BDI-II) reduced, indicating that the group may have helped in improving mood. On average, women attending the group moved from 'moderate' to 'mild' depression over the course of the group
The "word cloud" captures some of the participants' comments and highlights the importance of support in the mothers experience during the 10 week course.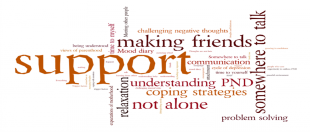 Nicola Taylor  is an Operational Manager and Sylvia Woolley a Health Visitor at Oxford Health NHS Foundation Trust