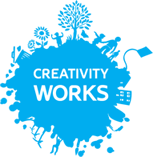 Creativity Works runs arts and health projects offering creative activities and courses to help with mental wellbeing. The 'My Time My Space' project supports women with postnatal depression to come to terms with how they feel and gives them space to express themselves creatively. The projects are facilitated by experienced artists who come not only with an amazing toolbox of ideas to inspire group members but also to enable the group to feel safe, in a non-judgemental environment where they can bring their own thoughts and ideas. It's a collaborative effort - Children's Centre staff and a health visitor run the sessions alongside the artist so that the mothers can talk through any specific concerns they have and their or their family's wellbeing.
Mums have made so many positive comments about the groups. One mum who came said that she wanted to come on the course to 'connect with mums with the same issues'. Another said she wanted to 'ensure I can be the best mum I can be to my children by helping myself and to not let things get on top of me.'
Thanks to the course, mums have said that they were able to 'connect with mums with the same issues'. One mum explained 'I felt it was time for me and I really enjoyed the support from the Children's Centre, and the artist and group. The artist's enthusiasm for everything we do and over the smallest things is so contagious, puts you in a happy mood and inspires you to try new things in your life whether creative or otherwise.'
At the heart of the project is giving mothers time and space, and this is something they all recognise as important.
'I enjoyed having 'me' time' and 'look forward to the course every week, it is relaxing, inspiring and there is a very good atmosphere'.
Another mum goes on to say: 'I feel relaxed now; it has been an excellent experience. I made lots of friends and I am more patient with (my children), lots of smiles and cuddles, less tantrums.'
The project has improved confidence levels as well: 'I'm more confident and don't worry so much about how others see me'.
'I'm a lot happier, I feel good about life and realised how important it is to be able to have time to be myself'
 'I never thought of doing anything until my health visitor mentioned it. Before that there was no other support. I now know there is support out there'
And we're seeing the impact it's having on postnatal depression – on average in the latest group, scores in the Edinburgh assessment (which measures mental wellbeing) have reduced by almost 7 points – a vast improvement.
We're so pleased that this year the project continues to help more families and hope that we can find a way to embed the service so that it runs year round in more areas. We continually see the effect of this innovative partnership and mums are noticing this too:
"The multi-agency approach was beneficial to the group e.g. health visitors, Creativity Works and Children Centre workers. The continuity of staff was particularly important for the group as parents were able to form trusting relationships".
And for parents the impact of the project goes on way beyond the course. Mothers continue to meet and support each other beyond 'My Time My Space', families are helped through the ups and downs of their lives and relationships, and the children benefit from the support by having happier parents who have been able to address issues of wellbeing at a crucial time in their lives.
 Phillipa Forsey is a Project Manager at Creativity Works, http://www.creativityworks.org.uk/