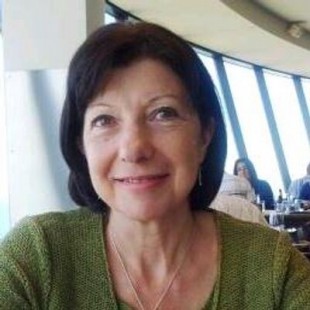 When I first started school I learnt to write on a slate with a piece of chalk and was later allowed to progress to a pen (a stick with a metal nib on the end) and ink – with real ink that was poured into the inkwell in my desk by the ink monitor (a very responsible job in those days!). The reason for this nostalgic rambling is by means of an excuse for my aversion to all things digital. Yet I know that the dawn of the computer and the internet has brought about immense changes to all of our lives over the last few decades. So, like many others of a certain generation, I reluctantly embrace new technology in acceptance of the benefits it brings.
The advance of technology in recent years has been no more evident than in healthcare. The opportunities for faster and more accurate diagnoses and treatments, better communication and efficient booking systems – the list of possibilities could fill a book!
Today, I took the opportunity to visit Oxford University Department of Psychiatry to find out about one such technological advance known as True Colours. This is an e-system that uses a patient's own mobile phone or computer to record symptom severity using short standardised and validated questionnaires. It was originally developed by Professors John Geddes and Guy Goodwin in the Mood Disorders Clinic of Warneford Hospital, Oxford as a means of keeping track of how patients were faring between appointments. Because the questionnaires are completed in 'real-time' by patients themselves it overcame the problem of trying to remember how they had been since their last appointment. This was an important point as memory can be distorted by how you are feeling at the time you are asked. While True Colours was initially developed for bipolar disorder it has since been extended for use with many mental health disorders and also a number of physical conditions, such as diabetes, musculo-skeletal conditions and many other long-term health conditions.
The True Colours system works by sending prompting messages to patients, either by email or text message, to remind them to complete their questionnaires. This can be done by text, email or by logging in to the secure website to enter their scores. Sophisticated software developed by the University of Oxford then converts the scores into a simple graph that is shared with the patient and their clinician, as well as any other healthcare practitioners involved in their care. Patients can annotate their graph with comments about things such as life events which may have had an impact on their symptoms, and clinicians can also write annotations about medication changes or the start of therapeutic treatments. The graphs can be used by patients to gain a better understanding of what triggers their symptoms and how to gain better control over them, and they can be used during clinic appointments for patient and clinician to make collaborative decisions about treatment changes. Practitioners can also use the graphs to evaluate the outcomes of treatments delivered, based on information supplied by patients themselves. The system also allows patients to create their own personalised questions that are unique to them e.g. Have you been running today? (yes/no response); How many times did you feel anxious when you were in work this week? (number response); How calm was your state of mind following Mindfulness practise today? (scale of 1-10). This is truly personalised care at its best. Here is an example of a  True Colour graph
A series of condition-specific booklets has also been developed by the research team, which assist patients in using the True Colours system. It enables patients to feel a sense of ownership over their problems and they are nudged into action to gain better control over their symptoms. This is very much along the lines of advice that their psychiatric nurse might provide, but written in an easy-read style that is linked to True Colours.
True Colours has been subjected to two clinical trials and initial results are looking good. There are now over 1,200 people using the system, many of whom have been using it for several years. It is clear from qualitative feedback received that many patients find the system useful:
"I've found it very good because it helps me to reflect on things, so I'm using it like a reflective tool so I can see where there are troughs and peaks. I think it's made me more aware, because I use it every day and I've adapted it to actually have a few questions which are useful for me as well".
"I suppose monitoring my drinking it's made me see how my drinking has been and how it peaks and flows…… one of my questionnaires is about my daily amount of alcohol consumption and that's quite interesting to see."
With my innate scepticism about technology I wondered whether this was a system just for the young, and also how well it worked for those with serious long-term health conditions. Although True Colours is used mostly with young people and adults of working age, it is also used with a smaller number of older adults.
The research is also demonstrating that the system works well with patients who are severely ill, with some patients continuing to use True Colours after they have been admitted to hospital. This was illustrated very clearly by a man who was severely affected by schizophrenia to the extent that he had never succeeded in maintaining any type of employment. He was seen by members of the Community Mental Health Team every two weeks and had multiple admissions to hospital under Section 3 of the Mental Health Act. Despite the severity of this man's illness he was still able to use True Colours and derive benefit from it. In fact he was keen to share his experiences of using True Colours with others through taking part in a training video for staff.
It is after listening to accounts like this that I am so pleased that we have left pen and ink behind. We may curse technology at times but it is also responsible for improving the quality of people's lives, particularly those with long-term health conditions.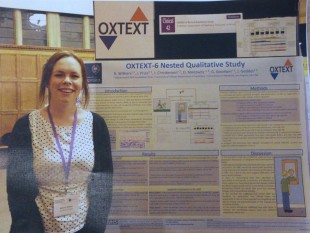 My thanks to the OXTEXT Team for taking the time to talk to me about this innovative system for self- monitoring and management of symptoms. If you want to find out more about the True Colours service you can contact the team by Email: oxtext@psych.ox.ac.uk or Telephone: 01865 613167.
 Jean Christensen is the Professional Officer for Nursing & Midwifery and Care at the Department of Health