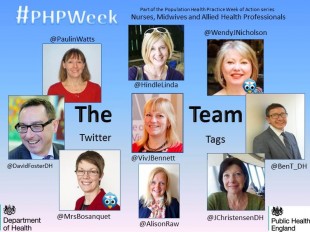 Welcome to the 4th day in our week of action on health improvement and health promoting practitioners
This short blog is to provide a pointer for what we have coming up today and some things you may want to book for later in the week.
Blogs coming to this site today:
Delivering the Ambitions of Living Well For Longer: A Carer's Perspective - Dame Philippa Russell, Chair of the UK government standing commission on Carers,
Living Well For Longer - Jazz Bhogal, Deputy Director for the Reducing Premature Mortality Programme, Department of Health
At the heart of it all: Personalised care and Population health – Viv Bennett, Director of Nursing, Department of Health and Public Health England ( located at https://publichealthmatters.blog.gov.uk/)
Making Every Contact Count (MECC): Improving health and wellbeing, reducing avoidable mortality, reducing health inequalities - Sophie Taysom, Programme Manager, DH (You may also be interested in Sophie's Monday blog outlining the system-wide approach to MECC and Jazz Bhogal's blog today on Living Well For Longer. We also have a webinar today with Jan Proctor King on behaviour change interventions - details below)
Web & Twitter Chats
1.00pm-1.45pm– Keep Your Hands Off Other People's Monkeys – a webinar on Behaviour Change Interventions with Jan Proctor King. To book your place please e-mail ian.packman@dh.gsi.gov.uk
8pm, How can we all be health promoting practitioners? – Twitter chat hosted by @WeNurses. For more details follow link @WeNurses Twitter Chat
Professional Journals
Keep you eyes open for related articles appearing in professional journals during the week or on their websites (some journals will be subscription/membership access only). The Nursing Standard's Special Public Health Issue came out yesterday. An interview with Viv for Independent Nurse can already be found at http://bit.ly/1kN7nSu  There is also an interview with Alison Raw , DH AHP lead, on the Chartered Society of Physiotherapy website:
Nursing & Midwifery
AHP
Chartered Society of Physiotherapy - Frontline
College of Occupational Therapists - OT News
Society of Radiographers - Synergy News
The British Dietetics Association - Dietetics Today
Royal College of Speech and Language Therapist - Bulletin
The Society of Chiropodists and Podiatrists - Podiatry Now
British and Irish Orthoptic Society - Parallel Vision
Visits:
On the road today we have:
Viv Bennett will be visiting a Brook sexual health unit in London
Wendy Nicholson, Professional Officer for School Community Nursing in Bristol at the University of West England meeting with SCPHN students
Pauline Watts, Professional Officer for Health Visiting, will be at a Children's Centre in Newham to hear about health working alongside early years and some of the partnerships and new ways of working that are developing to promote improved health and well-being.
Things to plan for the rest of the week:
 3.30pm-5pm, Friday 27th June - Sexual Health Awareness – Web chat with Dave Evans, Senior Lecturer at University of Greenwich, hosted by the Royal College of Nursing. To book your place please e-mail Sam at nursing.dept3@rcn.org.uk