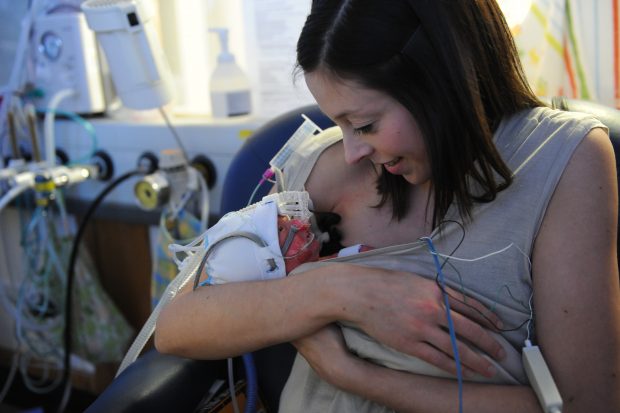 The NHS Long Term Plan and Neonatal Critical Care Transformation Review call on all maternity and neonatal services to implement the Unicef UK Baby Friendly Initiative standards, to provide seamless care for families between maternity and neonatal services, and to support families to become more involved with their baby's care.
Alongside other initiatives, Baby Friendly is working with units to help them implement the standards designed to support parents to be more active partners in their baby's care, to support parents to build a close and loving relationship with their baby and to increase breastmilk use and breastfeeding. Building on a growing body of evidence and learning from the inspirational work of others, we are helping units transform their care. Real change is happening and the enthusiasm for these developments is  heart-warming.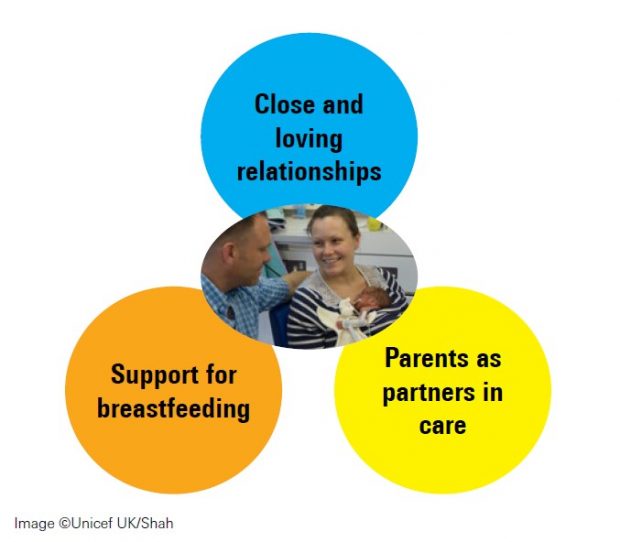 One example of this progress is our work over the last three years with a group of six neonatal units to implement the standards as a joint project. Evaluation of the project has just been completed and the results are encouraging.
Staff comment that implementing the neonatal Baby Friendly standards helps change the culture and the care:
Once you experience this, you wonder why care was the way it was, in-fact you don't want to and you cannot go back." (unit 1).

We used to think of parents as visitors and now we think of parents as carers" (unit 2).
Parents are actively encouraged to provide care for their baby, holding, talking and having skin-to-skin contact with them, all this, helping to develop their baby's brain. This is important and  necessary for a baby's survival and short and long term outcomes for the baby and their families.
There's so much more skin-to-skin… all the time there's someone doing it. On the ward rounds, babies are examined in skin-to-skin. There are blood tests when babies are in skin-to-skin" (unit 3).

I felt I really bonded and was a real mummy and …a sense of normality among all the medical equipment (unit 5)
Breastmilk and breastfeeding rates are increasing; this helps the baby's immature gut to develop, preventing life threatening complications such as necrotising enterocolitis.  Parents have 24-hour access to the units and supported by the provision of food, drink and cot-side beds, are enabled to stay every night for weeks if they wish, delivering care and exclusively breastmilk and breastfeeding.
The majority of mothers initiate expressing breastmilk; going on to breastfeed and not only taking baby/babies home fully breastfeeding but with a freezer bag full of frozen breastmilk too!" (unit 1)
Working together, midwives and neonatal nurses are enabling these changes to happen in transitional and neonatal care. As midwives let's celebrate all the hard that's taking place; in so doing we are defending a woman's right to stay with her baby and to provide love, comfort, care and nutrition in those very precious early hours and days of life.