As a specialist public health nurse (Occupational Health)  working in the NHS,  I  welcome the recent government funding incentives for NHS organisations (via CQUIN payments) aimed at improving the health of NHS staff, which include providing healthier food choices in canteens/restaurants as well as encouraging employees to be more physically active.
There is now a wealth of evidence which demonstrates that physically active employees are less likely to suffer from major health problems, take less sick leave and are also less likely to have an accident at work. Therefore, it is important that NHS employers include opportunities/support for staff to increase their physical activity levels in their holistic well-being strategies.  This should not only lead to a positive impact on the mental and physical health of  individual staff members,  but should help improve productivity of the organisation, particularly in terms of reducing costs around sickness absence.
To this end, some NHS trusts are investing in schemes, such as the Global Corporate Challenge, to encourage staff to increase their physical activity levels, both in and out of work, but, as these corporate initiatives can be quite costly,  their 'reach' can be limited, other NHS organisations are setting up their own, similar schemes which enable more employees to access motivational 'in-house' support - this may include lunchtime walking/running groups or 'couch to 5K'  initiatives.
Public Health England have developed a  network of Clinical Champions (funded by the Burdett Trust)  who have  a remit to  deliver training sessions  to healthcare staff (at their workplace) regarding the health benefits of physical activity for adults. Although this training is primarily focused on encouraging and motivating patients to become more physically active, I think all health care professionals would agree that it is important for us to try to model healthier lifestyles to our patients.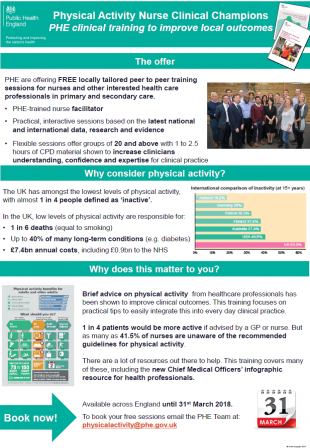 However, this is often easier said than done – workforce and capacity pressures can often see employees working through their breaks on a regular basis and sugar laden 'treats' get bought for the teams to thank them for their hard work - staff members themselves also feel that bringing in cake/biscuits to share, is also a way to show appreciation of each other.
If we as health professionals are to become positive role models for our patients, is important to tackle and challenge this culture. Managers should encourage their staff to take their allocated (breaks (which after all are unpaid) so that they have time to eat and leave their work area to go for a walk or participate in a more formal physical activity if they wish (although some clinical frontline staff may welcome the opportunity just to sit down and rest in an area away from their place of work.  In addition, just as staff restaurants/canteens are now expected to offer  healthier food choices, perhaps this is the time to be challenging our colleagues to a healthier option 'Bake Off'?!
Stella Sawyer is  a registered Specialist Occupational Health Nurse   and currently IAPT Liaison Nurse at Talking Therapies Southwark, (South London and Maudsley NHS Foundation Trust)
If you would like a PHE Physical Activity Clinical Champion to arrange to talk to your staff, please contact: physicalactivity@phe.gov.uk 
Also check out Public Health England's new Active 10 app as part of its One You Physical Activity campaign and help yourself and others improve their health.
References:
NHS staff health & wellbeing: CQUIN Supplementary guidance (NHS England, 2016)
https://www.england.nhs.uk/wp-content/uploads/2016/03/HWB-CQUIN-Guidance.pdf
Everybody active, every day An evidence-based approach to physical activity (PHE 2014)
https://www.gov.uk/government/uploads/system/uploads/attachment_data/file/374914/Framework_13.pdf
Physical activity: applying All Our Health (PHE, 2017))
https://www.gov.uk/government/publications/physical-activity-applying-all-our-health/physical-activity-applying-all-our-health (http://bit.ly/2ajesA7)
Wellbeing Charter (PHE/Health@Work)
http://www.wellbeingcharter.org.uk/media/Physical%20Activity%20Topic%20Guide.pdf
NICE guidance: Promoting Physical Activity in the Workplace (2008)
https://www.nice.org.uk/guidance/ph13