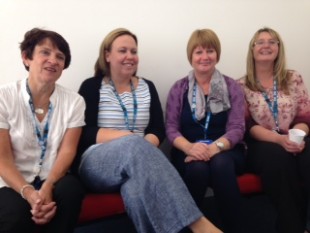 I was delighted to visit the 0-19 team at Wirral Community Trust on Tuesday this week. At the point where commissioning of the HV service transferred to Local Government, I wanted to find out how WCT were implementing the integrated 0 to19 service. I met with Angela Price and the team (see above) who took me through the innovative services which are delivered in an area with a wide variety of needs. This blog looks specifically how the service addresses HIA 1 and 4- (Transition to parenthood and healthy weight healthy nutrition) oral health and the child with complex needs.
High Impact Area 1 Transition to Parenthood and managing the HV/ Midwife transition.
Health visitors in Wirral visit the neonatal unit of Arrowe Park Women and Children's Hospital on a weekly basis to promote better integration and liaison between services, and improved support for parents.
Midwives, physiotherapists and health visitors work together to deliver a "Parents to Be" programme in a range of venues, and at different times of day. The programme has recently been redesigned as a result of recent advances in knowledge, and response to parental feedback.
The course is designed to promote a secure parent child attachment, responsive parenting, and confident parents who have access to peer support during their transition to becoming a family.
The Wirral version of the Personal Child Health Record (red book) is distributed at the 20 week scan, so that parents to be can benefit from the additional health promotion information and advice that it contains.
High Impact Area 4- Healthy Weight Healthy Nutrition
A new weight management programme, "The Fit Club" has recently developed to address the needs of children and young people identified as being overweight and obese. Children are referred as a result of the NCMP programme, or by health visitors or school nurses, GPs, social workers and a range of other professionals. The aim is to facilitate referral into a programme that is tailored to the individual needs of the child or young person. The programme considers nutrition, physical activity and health, emotional well-being, knowledge of healthy eating, food labelling and portion control, and records data to inform progress over time.
The HV team are commissioned to deliver Bright Smiles to all children during their 2nd year, and selected children living in areas of deprivation during their early childhood. This involves distribution of an information leaflet, a tooth brush, and tooth paste with higher concentration of fluoride suited to the local water content, at regular intervals during early childhood. This is in response to high levels of dental decay amongst children living in some areas of Wirral.
This programme will be supported by health education sessions in Early Years settings and Primary Schools linked to healthy eating and the National Child Measurement Programme (NCMP).
Children and Young People with Complex Needs
A Specialist Health Visitor for Children with Complex needs is in post to support staff in the 0-19 service to better manage the needs of families with children with additional needs. This includes the coordination of service delivery to promote early identification of issues, and appropriate intervention to support each child in achieving their potential, through to the provision of support of school nurses working within schools for children with complex needs.
Facebook Page
The Health Visiting Service is preparing to launch "The Health Visiting Hub," a Facebook page that will enable service users to more easily and quickly access information regarding the health and wellbeing of themselves and their families at a time that is convenient to them.
The Integrated 0 to 19 service is off to a great start and will continue to evolve and adapt in response to service user feedback to ensure that it is achieving the ultimate outcome "Best start for all children 0 to 19".
Andrea Johns with Angela Price
Andrea Johns FiHV is Health Visitor Advisor to Public Health England and Department of Health and Health Visitor Team Leader at East Cheshire NHS Trust (at the time of the visit).