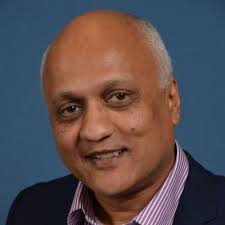 We are increasingly aware that, across England, the proportion of children with excess weight is a major public health issue. Our concerns are based on a number of factors, which affect children now and later as adults.
Through the National Child Measurement Programme[i], overseen by PHE, we know that:
One in five children in reception year (ages 4/5) is either overweight or obese
By the time they reach the end of primary school, in year 6, this rises to 1 in 3
Obesity rates double between reception and year 6
Obesity rates are higher for boys than girls
There are significant differences by ethnicity, which we need to gain a better understanding of
Children from the poorest areas have a rate of obesity twice that of children from the most affluent areas, as the chart below shows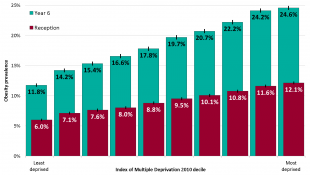 A longitudinal study[i] in South Gloucestershire of NCMP data shows how important it is that children arrive at reception year with a healthy weight. The study found that fewer than 16% of children who were obese in reception year had managed to reach a healthy weight by the end of primary school. Studies like these simply reinforce why PHE, and local authorities, are right to have a strong focus on giving every child the best start in life – and that includes a healthy weight.
PHE is working closely with local government, schools and parents, to see how we can provide more support and advice when parents receive information on their child's weight status from the NCMP programme.
We also know that as children get older and go to secondary school, the combination of eating increasingly unhealthy foods and drinks, and less physical activity, leads to almost 19% of 11-15 year olds being obese[ii].
Research tells us that serious health and wellbeing problems are caused by excess weight in childhood – including asthma, musculoskeletal problems, psychosocial risks, sleep problems, CVD and of course greater risk of type 2 diabetes[iii]. Young people themselves describe the emotional problems, bullying and lack of confidence that obesity can lead to for some of them.
The scale of the issue is such that the Public Health Minister, Jane Ellison, told PHE's recent annual conference (September 2015) that the government would be publishing a child obesity strategy later this year.
PHE is working closely with other government departments to support this. The factors behind child excess weight are complex and require a wide range of businesses, organisations and government departments to take action. Drawing on its expertise, knowledge and intelligence capabilities, public health is well placed to play a major role to help every child and young people have a healthy weight.
Watch this space for developments.
Eustace De Sousa, National Lead, Children, Young People and Families, Public Health England
[i] http://info.uwe.ac.uk/news/uwenews/news.aspx?id=3095
[ii] http://www.noo.org.uk/securefiles/150915_1154//ChildWeight_Aug2014_v2.pdf
[iii] https://www.noo.org.uk/NOO_about_obesity/obesity_and_health/health_risk_child