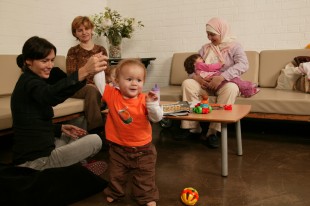 Health Visiting teams across Hampshire are involving parents in improving services for children and families through regular audits and action plans to make sure the service meets their needs.
In April 2014 the health visiting team in Winchester completed an audit of parents' views of the health visiting service; this highlighted that there was a need to improve early access for support with children's behaviour management. These behaviours continue through a child's life and it's crucial to give the right support early on. It is widely acknowledged that supporting parents to manage small difficulties as soon as they arise can improve confidence in parenting and prevent more significant behavioural problems developing. Parents who would like support with a range of behavioural issues including sleep management, fussy eating, temper tantrums and aggressive behaviour can now book an appointment at a weekly clinic facilitated by nursery nurses who have expertise in behaviour management. The personalised approach builds on parents' strengths and enables them to explore the issue and discuss a range of positive parenting strategies to develop an individualised plan. Parents will then be supported through regular reviews at further appointments or over the telephone.
The feedback is collated using a service user feedback questionnaire which includes the Friends and Family test. The results have been unanimously positive, including comments such as:
"very pleasant, knowledgeable and understanding… better than I could have hoped"
"[nursery nurse] was absolutely fantastic"
"…it worked amazingly, thank you"
The health visiting team are exploring ways of developing a small-scale patient outcome measure to provide a more detailed evaluation to support the sustainability of this service within Local Authority Commissioning.
The "Behaviour Matters" service supports the delivery of Public Health England Early Years High Impact areas (2014) through the provision of "Appropriate services to support identified needs", which is underpinned by a growing body of research recognising the importance of the first 1001 Critical Days.
 Southern Health NHS Foundation Trust- Hampshire