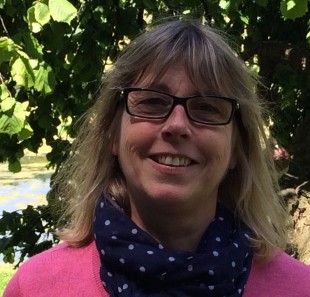 Writing this at the time of year when we are rather short on daylight and sunshine, reminds me that it's important to talk about vitamins. The UK Health Departments recommend that pregnant women, new mothers and children under the age of 5 should take a supplement that contains specific vitamins - especially vitamin D for strong bones and teeth and folic acid for pregnant women. Health professionals can make a significant difference if they talk about the risks of vitamin deficiency and let those at risk know where they can get their vitamins locally.
As we start a new year I am pleased to be writing to let you know that Healthy Start vitamins can be sold by NHS organisations in England again.
A priority for the Department of Health (DH) is to improve access to Healthy Start vitamins by increasing the number of outlets they are available, not just for Healthy Start beneficiaries, but also the population identified as at-risk and who may benefit from vitamin supplementation
 The Healthy Start Vitamins Charging (England) Regulations 2014 were laid before Parliament and come into effect on 5 January 2015.
This means that a body providing services or facilities for the care of pregnant women, women who are breastfeeding and young children[1] may make a charge for Healthy Start vitamins.
That charge –
must comprise or include the cost price (i.e. £1.38 for children's drops and 83p for the women's tablets)
may include an additional handling charge up to 50%
must be rounded up to the nearest 5p
The maximum charge if sold by an NHS organisation[2] in England will be £2.10 for children's drops and £1.25 for women's tablets.
To view the regulations in full go to http://www.legislation.gov.uk/uksi/2014/3099/contents/made
Scotland has their own regulations that permit the sale: http://www.healthystart.nhs.uk/for-health-professionals/vitamins/vitamins-in-scotland
For Wales the Sale of Goods for Mothers and Children (Designation and Charging) Regulations 1976 still apply: http://www.healthystart.nhs.uk/for-health-professionals/vitamins/vitamins-in-wales
NICE issued their Public Health guidance 56 Vitamin D: increasing supplement use among at-risk groups in November
You can view the guidance here https://www.nice.org.uk/guidance/PH56
A number of the recommendations are relevant to, or make reference to Healthy Start vitamins.
For information the children's drops and women's tablets each contain the recommended reference nutrient intake. They are suitable for people who avoid nuts, are vegetarian or have a halal diet.
                                   Children's drops                                 Women's tablets
Vitamin A             233 micrograms                                         Nil
Vitamin C             20 mg                                                         70 mg
Vitamin D (D3)    7.5 micrograms                                    10 micrograms
Folic Acid             Nil                                                           400 micrograms
One bottle           10 ml (8 weeks supply)                    56 tablets (8 weeks supply)
Daily dose           5 drops                                                           1 tablet
Shelf life              10 months from manufacture          2 years from manufacture
Classification  General Sales List Medicine   Multivitamin Food Supplement
If the child is having 500ml or more of infant formula a day do not give the Healthy Start children's vitamin drops as infant formula is fortified with vitamins.
The children's drops are suitable for children aged 1 month to 5 years of age.
All women who are trying to get pregnant or who are pregnant should take 400 micrograms of folic acid each day.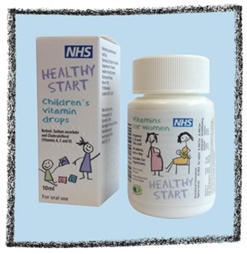 If your organisation is thinking about a universal vitamin supplement scheme, please get in touch (nhsbsa.healthystart@nhs.net) to let us know how your scheme will work. We may be able to share information and experiences from other organisations. This will also help NHS Supply Chain handle any unexpected large orders and ensure stock is managed appropriately.
 NHS Supply Chain has set up a new procedure so that from one order they can arrange delivery to multiple sites. The best way to find out more or set this up is to contact the NHS SC community operations team on 01924 328890 or email Julie.pettit@supplychain.nhs.uk
Around the end of March 2015, watch out for some changes when ordering the women's tablets. The product code will be changing and the unit of issue will be 6 bottles, the price will also reduce to 74p per bottle.
 A link on the Healthy Start web site (http://www.healthystart.nhs.uk/healthy-start-vouchers/healthy-start-vitamins/ ) and NHS Choices (http://www.nhs.uk/Service-Search/Healthy-start-vitamins/LocationSearch/348 ) helps people find their nearest location to get Healthy Start vitamins. The NHS Business Services Authority is co-ordinating the database of vitamins distribution centres on NHS Choices. We are aware the information for some areas is out of date. We would appreciate if you could let us know of any changes and new locations.
If you would like to request a list of your distribution centres to check for accuracy, please email: nhsbsa.healthystart@nhs.net with your request.
We like to hear about local schemes and we can provide you with the Healthy Start artwork if you are planning a marketing campaign. Get in touch at nhsbsa.healthystart@nhs.net
 Healthy Start is a UK-wide government scheme to improve the health of low-income pregnant women and families on benefits and tax credits. Vouchers are posted out every four weeks. They can be spent on milk, plain fresh or frozen fruit and vegetables (fruit and vegetables with nothing added), or infant formula milk in a wide variety of local shops and supermarkets and with milkmen that have registered to take part in the scheme. Every eight weeks, beneficiaries also get a vitamin coupon, which they can swap for Healthy Start vitamins in their local area. It is the responsibility of NHS England, Local Authorities and Clinical Commissioning groups in England to make both of these vitamin products available locally to Healthy Start beneficiaries. Visit www.healthystart.nhs.uk for more information
Tricia Morris: Policy Lead - Healthy Start vitamins, Department of Health.
[1] Section 3(1)(d) of the Health and Social Care Act 2012
[2] NHS organisation includes Local Authorities if they provide the services or facilities described