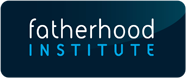 When babies are born it's easy for the focus to remain firmly on the mother. After all, she's the one who has been through pregnancy and childbirth, and needs time to recover and become an expert at breastfeeding!
But mums don't exist in a vacuum, and there's good evidence from across the world that if you're serious about improving outcomes for mums and their children, you need to engage with fathers too.
Nowhere is this truer than in the field of maternal and infant health. Mums' and dads' smoking can have a huge impact on babies' health, and mums who smoke are much more likely to give up if their partner does, for example. Fathers' support is also a huge factor in eradication of mother-to-child HIV transmission, and whether or not new mothers will persevere with breastfeeding. And mothers' mental health is better, and couple relationships stronger, when dads learn to be hands-on with babycare.
For these and many other reasons, the Fatherhood Institute's new free factsheet, Making the most of fathers to improve maternal and infant health, launched for the UN's Universal Children's Day (November 20) http://www.un.org/en/events/childrenday/index.shtml is essential reading if your job involves supporting women and children in the perinatal period.
Now it's true that dads may sometimes not seem to be queuing up for support from family services. But contrary to popular belief, most of the time this isn't because fathers lack interest in their children's progress. A lot of the time they won't even know a service exists; they may feel, justifiably, that it's not really aimed at them; they may believe that mums are the only ones who really matter; and they may have never explicitly been invited.
To help you get beyond such obstacles, the other resources in the 'Bringing Fathers In' series include top tips on how to engage dads and the biggest mistakes to avoid; great ideas on 'messaging' for anyone advocating for more father-inclusive services; and advice on how to design and evaluate services with fathers in mind.
The resources are backed by ten research summaries, and were produced with support from the Bernard Van Leer Foundation. All are available as free downloads at www.fatherhoodinstitute.org/bringingfathersin.