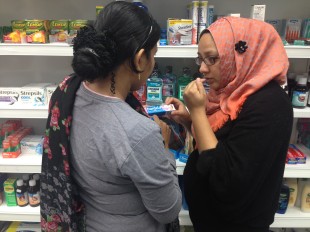 It's a Thursday morning and we are all getting ready for another session of DIY Health. We (the local health visitors) have been working together – with the Children's Centre,Bromley by Bow Centre, The Bromley by Bow Health Partnership and parents - for a while now, but each week is still exciting.
This project aims to empower parents with skills and knowledge to manage life-limiting illnesses in children under 5 at home. It supports parents to access health services at the right time and at the right place - for example: pharmacists, health visitors, local children's centres or NHS 111 - for support in managing illnesses and accessing the right level of support when it is needed.
The topic for this week's session is fever. The session is created in line with current guidelines to make sure parents get accurate and consistent information; and we have found lots of useful online resources that we can share with the group. As health visitors, we have lots of important information to help parents manage self-limiting illness at home, but experience sharing is such a crucial and rich element of the project too and we
are always learning from experiences from the parents. Dannielle, a full-time mum, recalls her time with DIY Health:
"As a full-time mum I often struggled at home alone with two kids while my husband worked long hours. The call from my GP surgery to invite me to DIY Health was so welcomed, and it was such a bonus that I could finally get involved in something that I could bring my son along to. At our first session, we were greeted by Emma and Carol, the Health Visitor and Sue. I started to feel relaxed. I have learnt so much, from how to manage a temperature, what to do in an emergency, when to call a doctor or use NHS 111,
skin conditions, signs and symptoms of serious illness and much more. I really liked the fact that not only was I getting professional advice, but I was also able to share my experiences with other parents and in return other parents shared theirs. I was starting to make friends, which I really appreciated."
In true co-production style it is not only the parents who are learning new things. Fahima, one of the project health visitors, describes how DIY Health offers a novel approach to carrying out primary preventative work.
"We are not just disseminating health advice in the conventional way, but we are continuously assessing the level of knowledge and practice that parents have. I have learnt that for the advice to be effective, it is imperative that it is applicable to parents' individual needs – which is a challenge but also very rewarding."
Co-production entails developing equal and reciprocal relationships between patients and professionals. As such, we welcome the opportunity to co-facilitate with parents. A great example of this was when one of the parents used her previous experience as a dental nurse to help deliver a session on children's oral health.
The DIY Health project has so far received glowing feedback from parents and is going from strength to strength. We are currently looking at how we can expand to project to new areas, to help more parents manage their children's self-limiting illnesses.
To find out more about our work, please visit: http://www.selfcareforum.org/wp-content/uploads/2011/07/DIYHealthBBBHPcasestudy.pdf
Susan Crane Programme Manager -Children, Young People & Maternal Health, UCLPartners
Caroletha Irish - Health Visitor Fellow, Children, Young People and Maternal Health Programme, UCLPartners
Fahima Yusuf - Health Visitor Project Lead (for local Health Visiting project Streams) Maternal, Children, Young People and Maternal Health Programme, UCLPartners