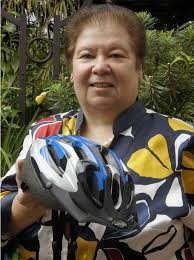 Never ever having written a blog before this will be my attempt on a subject I feel very passionate about.
The area of child cycle safety and helmet use became apparent when I was the ward sister of the children's trauma unit in Reading back in 1992. It seems a long time back, but the memories of seeing the devastation of a young life from a brain injury that may have been lessen or eliminated for the sake of wearing a helmet is still as pertinent today as it was 22 years back.
What has changed, is more cars, faster bikes and the increase pressure on children and young people to fit an image. The image sadly for many is not to wear a helmet as it messes their hair, it's not cool or cost of safety equipment is outside the ability for so many families.
As a nurse still working in paediatric trauma, we spend so much time patching up those injured. What we lack is a determination to prevent, minimise and educate on at risk activities. We know children and young people are natural risk takers. They do learn from mistakes, but if that mistake has the potential for a catastrophic consequence, shouldn't we, as carers, their advocate, all work to ensure that we can bring about change to prevent what is preventable? We all have a duty of care.
Helmets are available now. They provide a level of protection that could make a difference to the long term well being of that child who may come off their bike, for whatever reason, and bang their head.
Young people struggle to gain the confidence to wear helmets. They worry what their friends may say. They fear being different.   I remember the words of a 15 year old whose 12 year old brother died from his head injury following coming off his bike. The lad wore a helmet following his brother's death, but within two months he took the helmet off as the teasing was too much for him to cope with.
We know that helmets are not the only thing that needs to be done to safeguard young cyclists. There needs to be education, safer routes and affordable safety gears such as lights and reflective gear. Drivers also need to respect other road users as do cyclists.
What I know is that a child has never been an adult, but adults have been a child and therefore need to remember that children have not got skills to judge speed, cope with hurtful comments or realise when they have put themselves at risk. This comes with age and experience. Until then we need to assist and provide all measures to reduce and prevent harm.
Angela Lee – Nurse Consultant Paediatric Trauma and Orthopaedics- Royal Berkshire Hospitals NHS Trust