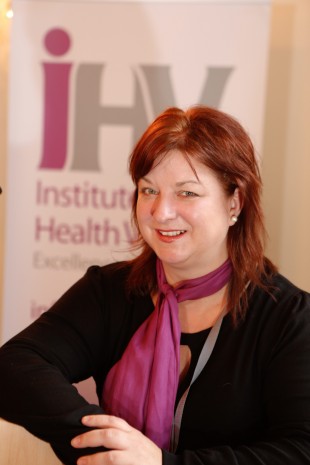 I have been a Health Visitor now for 15 years and I am very passionate about Infant Mental Health.
I learnt about the mental health of babies whilst studying for my Masters in Public Health some years ago and I was amazed to think babies could have mental health!
And so a passion began….all the research and knowledge that is out there but how do we get that out to families. This is a challenge for Health Visitors on a daily basis in their work with families.
A student health visitor said to me recently that it seems like it is a secret…'the baby brain development' and as a mother, she was angry not to have known about this knowledge beforehand. So we have a duty to get the message out …..But what tools do we have to support us?
Firstly our universal contacts enable us to open up that conversation and build on that conversation with parents at every contact. This starts antenatal with the use of the Antenatal Promotional Guide tool at 28 weeks gestation and again at 6-8 weeks postnatally – both home visits by the same Health Visitor. Research shows that these two visits can increase outcomes for children at 2 years of age by for example, improving maternal sensitivity. High maternal sensitivity as well as high reflective functioning are both positively correlated with secure attachments.
Well we all know why secure attachments are important. It enables healthy and secure relationships and optimises physical health leading to improved outcomes for children. The converse can cause difficult relationships, truancy, poor educational attainment, crime and the list goes on. It could be argued that every baby has a right to a secure attachment.
We can talk about baby brain development but also encourage parents to use reflective functioning – what do you think your baby might be feeling? Sounds obvious but the answers can be revealing and suggestions very helpful in helping parents to understand their baby's needs.
Most parents respond to their baby intuitively with sensitivity and natural attunement without even thinking about it. However, some parents are not able to do this naturally. There are many reasons for parents not being able to respond to infant cues. For example, parents may be too 'full up' to notice their baby's signals and baby cues and therefore miss vital clues that alert parents to their baby's needs. Pre-disposing factors for this include post natal depression. Therefore, supporting the mother to become more 'in tune' with their baby increases the chance that change will be successful. Fathers are also very important and can be protective of mothers that have had poor attachments with their own mother.
A fantastic resource is the app that was launched by Warwick University this April http://www.your-baby.org.uk/ - this is for Health Visitors and parents (and other professionals could use this). It is well designed, informative and an interactive way of supporting parents with getting to know their babies and recognising their 'baby states' and body language to understand how they can 'read' their babies, and help their development and the brain to grow.
So what about parents who need a bit more help?
Baby steps is a new programme which has been developed by the NSPCC
http://www.nspcc.org.uk/fighting-for-childhood/our-services/services-for-children-and-families/baby-steps/
It is a perinatal programme for vulnerable parents to be which promotes secure attachments and aims to help parents with the transition to parenthood. This transition has since been identified as one of the six high impact areas. Some Health Visitors are delivering these with midwives or Family support workers across the country. We have started to use it in Warwickshire and have really started to see the difference it can make to families. Fathers are also engaging well once the foot is through the door (the most challenging bit!).
Video Interactive Guidance is an intervention that Health Visitors can use and is recommended by NICE guidance to promote social and emotional well being in infants. The governance, technology and supervision requirements can be current barriers but watch this space as Health Visitors become more knowledgeable in this area.
All of the above and more are cited within Warwickshire's Infant Mental Health pathway http://www2.warwick.ac.uk/fac/med/about/centres/wifwu/research/mhpathway/
The pathway draws together latest evidence to recommend interventions to improve infant mental health. There is lots of great stuff for Health Visitors and commissioners to aspire to in improving infant mental health.
Theresa Bishop is Professional Lead for Health Visiting for Warwickshire and Fellow of the Institute of Health Visiting.