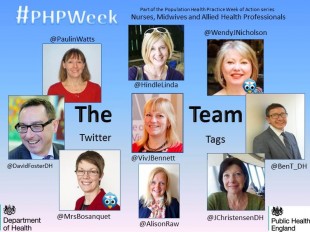 Welcome to the 3rd day in our week of action on health improvement and health promoting practitioners
This short blog is to provide a pointer for what we have coming up today and some things you may want to book for later in the week.
Blogs coming to this site today:
Young People's Sexual Health – Simon Blake, Chief Executive, and Debbie Mennim, Head of Nursing, at  Brook, the young people's sexual health and well-being charity
Preventing Pressure Ulcers : A Public Health Issue?– Ruth May, Regional Chief Nurse NHS England, Midlands & East
Experiences from the Frontline – Visit to Mottingham Leg Club– David Foster, Deputy Director of Nursing, Department of Health
Experiences from the Frontline – Personalised Care Using True Colours – Jean Christensen, Professional Officer, Department of Health
Today's Web Chats:
10am-11.30am, Wednesday 25th June – Eat, Sleep, Drink –another opportunity for a web chat on children and young people 0-19yrs with Pauline Watts, Professional Officer for Health Visiting, and Wendy Nicholson, Professional Officer for School and Community Nursing, at the Department of Health. To book your place please e-mail fiona.hill@dh.gsi.gov.uk
3pm, Wednesday 25th June - AHP – Are You A Health Promoting Practitioner? – webinar hosted by Linda Hindle, Public Health England, and Alison Raw, Department of Health. Book a place with Olabisi.osiade@dh.gsi.gov.uk
Professional Journals
Keep you eyes open for related articles appearing in professional journals during the week or on their websites (some journals will be subscription/membership access only). Today the Nursing Standard will be publishing  a special public health edition to coincide with our week of action. An interview with Viv for Independent Nurse can already be found at http://bit.ly/1kN7nSu . There is also an interview with Alison Raw , DH AHP lead, on the Chartered Society of Physiotherapy website:
Nursing & Midwifery
AHP
Chartered Society of Physiotherapy - Frontline
College of Occupational Therapists - OT News
Society of Radiographers - Synergy News
The British Dietetics Association - Dietetics Today
Royal College of Speech and Language Therapist - Bulletin
The Society of Chiropodists and Podiatrists - Podiatry Now
British and Irish Orthoptic Society - Parallel Vision
Visits:
Viv Bennett will be at Oxford Brookes University speaking at the Leadership for Practical Action Conference
Wendy Nicholson, Professional Officer for School and Community Nursing will be with the District Nursing team in Southampton and joining an evening seminar  at University of Southampton for nurses and managers
Jean Christensen will be at Oxford University's Department of Psychiatry finding out about the development of innovative technology to enable patients with long-term health conditions to monitor their symptoms at home and develop self- care skills.
Things to plan for the rest of the week:
1.00pm-1.45pm, Thursday 26th June– Keep Your Hands Off Other People's Monkeys (Behaviour Change Interventions)– webinar with Jan Proctor King. To book a place please e-mail: ian.packman@dh.gsi.gov.uk
8pm, Thursday 26th June -  How can we all be health promoting practitioners? – Twitter chat hosted by @WeNurses. For more details follow link: @WeNurses Twitter Chat
3.30pm-5pm, Friday 27th June - Sexual Health Awareness – Web chat with Dave Evans, Senior Lecturer at University of Greenwich, hosted by the Royal College of Nursing. To book your place please e-mail Sam at nursing.dept3@rcn.org.uk