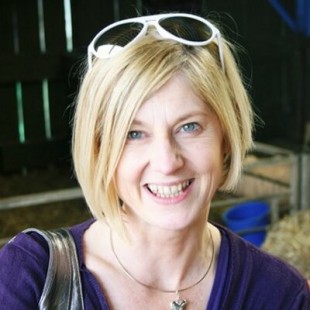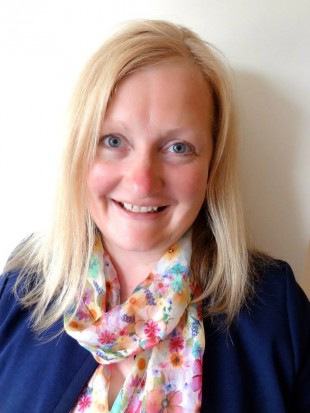 Are you a health promoting practitioner? This question was asked at several conferences recently and the initial response revealed that only 20% of AHPs in the audience viewed themselves as such. This low response wasn't because AHPs are not acting as health promoting practitioners but rather it is a reflection of how we perceive public health.
Typically we think of public health as a specialist domain of public health consultants or those who work on campaigns, community development projects or health improvement initiatives. However public health is something much wider, something we can (and already do!) as part of our day to day job. You don't have to have public health in your title to be a health promoting practitioner.
Question: How many AHPs ask and advise about lifestyle and behaviours as part of their job?
Answer: Virtually all of us.
Question: How many AHPs work with their clients to improve independence or prevent a deterioration of a condition?
Answer: Virtually all of us.
These are examples of AHPs working as health promoting practitioners.
When the conference audiences were then asked to think about public health in this wider sense, over half considered themselves to be health promoting practitioners. This is extremely encouraging as the 12 allied health professions recently agreed a shared ambition to become recognised as an integral part of the public health workforce. Leaders including Professor Kevin Fenton, who is the National Director for Health and Well-being at Public Health England, have warmly welcomed this ambition
The thousands of AHPs working across health and social care have been recognised as an extraordinary untapped resource with the potential to contribute to virtually every public health priority. There is an urgent need to shift our focus from treatment to prevention if we are to cope with the increasing demands on the health and social care system. We need to take every opportunity possible to create the best environment, information and support to help people and populations change their behaviour and to enjoy better health and well-being.
We want to be recognised as public health practitioners, as we are already doing public health roles and policy makers are behind us. So what more needs to happen?
We have to challenge ourselves to see what more we can do, how can we highlight our role and where can we add to it. We need the support of commissioners to value our contribution and also the support of our academic colleagues to help us develop skills and an evidence base of our sizable contribution to the public's health.
Across the Allied health professions we have agreed 4 key areas on which we will focus our efforts to make a real difference. These areas resonate with the professions and public health colleagues; they are the areas that will be future priorities for us all. They are:
Children ready for school / early years (language development, nutrition, physical skills, emotional development, vision)
Making every contact count (particular emphasis on tackling obesity, physical inactivity, smoking, alcohol and drug use)
Improving health for older adults (particular emphasis on good nutrition, preventing falls, promoting independence, managing dementia, reducing social isolation and increasing and maintaining mobility)
Emotional wellbeing (achieving  parity of esteem of emotional wellbeing in line with physical health and holistic care)
Programme boards are being developed to support us to make a difference in these areas. The Boards will consider what are the key actions we can take as AHPs recognising that we need to incorporate any actions into our day jobs, how can we measure our impact and how can we communicate our successes with others.
If you would like to hear more and give your views, please join our webinar at 3pm on Wednesday 25th June (book a place by e-mailing olabisi.osiade@dh.gsi.gov.uk) Click on image to enlarge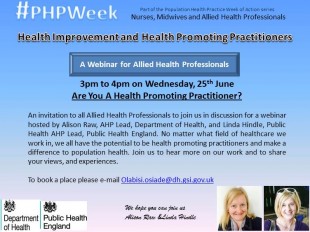 During the week of action we would love to hear from you about how you are improving health and where you plan to do more. Here is your chance to celebrate your profession and your contribution to the public's health, please make the most of it!
Linda Hindle, AHP Lead, Public Health England @hindlelinda
Alison Raw, AHP Advisor, Department of Health @Alisonraw