'If you want to go fast, go alone. If you want to go far, go together' (African Proverb)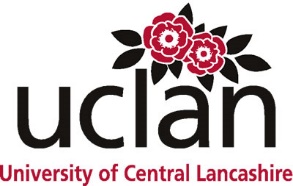 Making a difference
It is an exciting time to be an infant feeding coordinator, turned midwifery lecturer, working in the University of Central Lancashire's (UCLan) School of Community Health and Wellbeing. The launch of the renewed Unicef UK Baby Friendly Initiative (BFI) standards in 2012 and the development of revised University BFI standards has led to significant improvements in our approach to educating students in the promotion, protection and support of breastfeeding as part of close and loving relationships. With my colleagues Dawn Eccleston, Megan Blease and our wider education and research team, I have been supporting midwifery and Specialist Community Health Nurse Practitioner (SCPHN) training in breastfeeding, nutrition and wider relational care for all women and babies.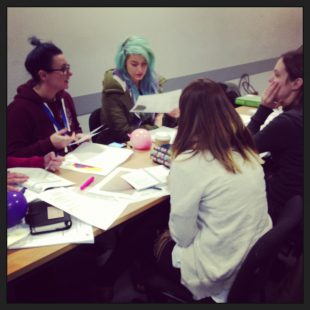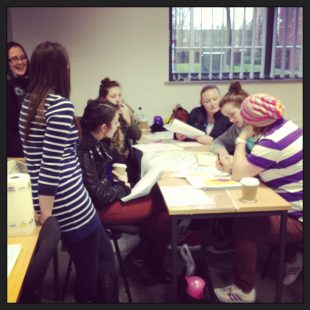 University BFI success
Over the last two years we have been successful in implementing the new BFI University standards within all our midwifery and SCPHN health visiting programmes. We finally became fully BFI accredited in March this year after a few years of trying. It has been such a celebration, especially as the research outputs from our Maternal and Infant Nutrition and Nurture unit, led by Professor Fiona Dykes, informed both the original University and revised BFI standards for practice (Dykes 2006, 2009a, 2009b, Thomson and Dykes 2011, Dykes and Flacking 2010).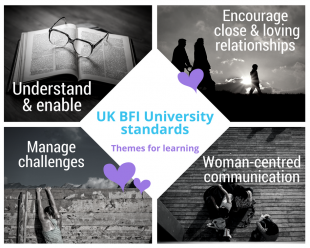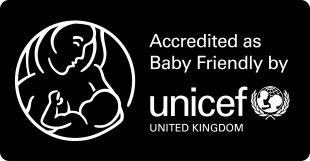 Shared learning
We feel so proud of our training programme that offers student midwives and SCPHN health visitors with opportunities to learn together enhancing future collaboration in practice. Students develop their knowledge and skills throughout theory and placement settings with assessments relating to both. As an education team it has been crucial to ensure that we all have up-to-date knowledge and skills, working closely with local community and maternity services to share good practice. To further these practice connections, we invite infant feeding lead clinicians to deliver sessions with us. We also offer local practitioners places to attend our training, to help strengthen working relationships and maximise resources.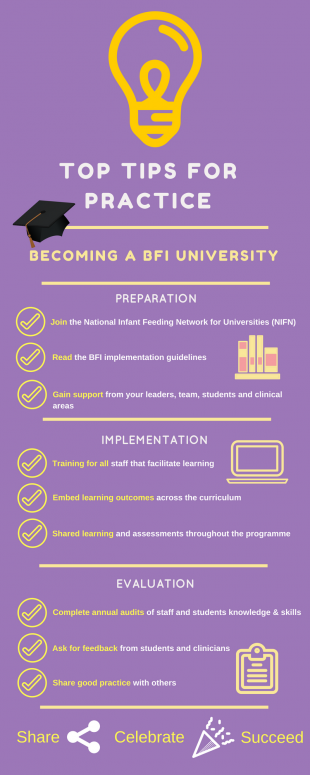 Building a breastfeeding friendly University
Building on our BFI accreditation success we have also been working, with our Head of School Debbie Kenny, to develop University-wide support for breastfeeding. This has included reviewing returning to study and work processes, updating facilities and resources for breastfeeding students and employees. Supporting women to continue breastfeeding when they return to study or work is crucial if we are to influence a positive shift in breastfeeding continuation rates.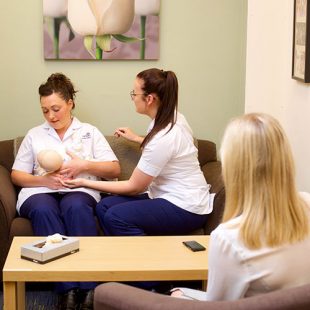 Support to return to work or study
Returning to study or work can be difficult for women when they are breastfeeding. Every new mother and baby needs access to timely, effective and family-focused information and support that meets their nutrition and nurture needs. Current evidence recognises the dose-response value of breastfeeding for woman, babies and society (Victora et al 2016) and recommends exclusive breastfeeding for 6 months with continued breastfeeding for at least 2 years. Yet, there continues to be challenges to increasing breastfeeding initiation and continuation rates in practice.
Woman-centred caring
It has been well established that a society-wide ecological response is required to make a difference in breastfeeding experiences and outcomes. Adopting a University-wide approach to promoting, protecting and supporting breastfeeding is crucial for sustainability.  Offering individualised, woman-centred and family-focused support is at the heart of our vision, at UCLan. Building breastfeeding responsive workplaces requires us to engage in truly woman-centred conversations: actively listening, confirming and accepting, asking and exploring and guiding as appropriate. Together we can address these challenges to build breastfeeding responsive environments and facilities for students, staff, local women and families.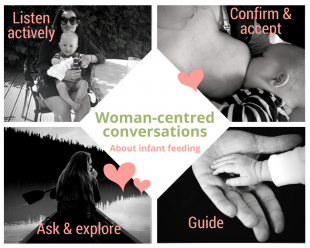 Anna Byrom is Senior Midwifery Lecturer at School of Community Health and Midwifery Faculty of Health and Wellbeing, University of Central Lancashire 
Helpful links on returning to work/study:
Maternity action information
https://www.maternityaction.org.uk/advice-2/mums-dads-scenarios/6-breastfeeding-rights/continuing-to-breastfeed-when-you-return-to-work/
NHS advice
https://www.nhs.uk/conditions/pregnancy-and-baby/breastfeeding-back-to-work/
Baby Friendly Initiative
www.unicef.org.uk/babyfriendly
References:
Dykes F. (2006) Education of health practitioners supporting breastfeeding women: Time for critical reflection Maternal & Child Nutrition. 2, 204–216
Dykes F (2009) 'Feeding all the time': Temporal dilemmas around breastfeeding in hospital. In: McCourt C (ed.) Childbirth, Midwifery and Concepts of Time. London: Berghaun Books
Dykes F. (2009) 'No time to care': Midwifery work on postnatal wards in England. In Hunter B & Deery R (eds.) Emotions in Midwifery and Reproduction. London: Palgrave Press.
Dykes F & Flacking R (2010) Encouraging breastfeeding: a relational perspective. Early Human Development. 86, 733–736.
Thomson, G & Dykes F (2011) Women's Sense of Coherence of Infant Feeding. Maternal and Child Nutrition 7, 160–174.
Victora, C. G., Bahl, R., Barros, A. J. D., França, G. V. A., Horton, S., Krasevec, J., Murch, S., Sankar, M. J., Walker, N. & Rollins, N. C. (2016). Breastfeeding in the 21st century: epidemiology, mechanisms, and lifelong effect. The Lancet, 387, 475-490.