"We have reached a critical point and must act now on a global scale to slow down antimicrobial resistance" – Professor Dame Sally Davies, UK Chief Medical Officer (2014)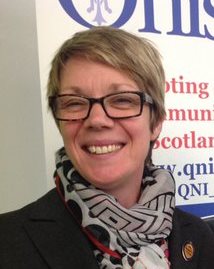 As health and care professionals we have witnessed the miraculous benefits antibiotics have brought since their discovery and introduction in the middle of the 20th Century. But unfortunately, alongside this pharmaceutical marvel comes nature's response in the form of resistance to a growing number of organisms. The prevention of infection is now as or even more vital as treatment.
We are well placed to understand the dangers from the global growth of antimicrobial resistance. This blog sets out some of the ways health and care professionals can act now with the maximum of impact.
As health and care professionals we must act individually and collectively to improve our own infection prevention and control practices, antimicrobial management, stewardship and also in educating and supporting the public and those we care for in understanding the threat posed and the actions they can take. This blog also shows action in a place-based approach, engaging across the community and population.
All Our Health represents this place-based action through a townscape. This shows the wide range of facilities and services vital to the enablement of health and wellbeing.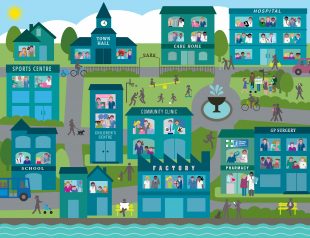 Maximising our resources through integrating interventions in prevention and care is fundamental to progress to improving services and outcomes.
The townscape below shows how health and care professionals' interventions in 'place.'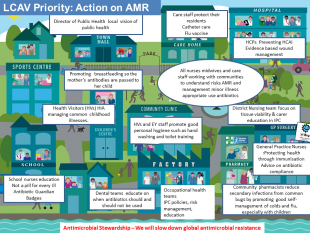 The first three commitments in 'Leading Change, Adding Value (LCAV),' the national nurses, midwives, health visitors and care staff framework, all focus on health promoting and prevention and  we have recently published the 3Ps professional guidance to support practice and leadership. This may also be of interest to other health care professionals.
The guidance for AMR is shown below. I am asking that every one of us 'acts now' by looking at what works and including in our practice to maximise our contribution to slowing down Antimicrobial Resistance.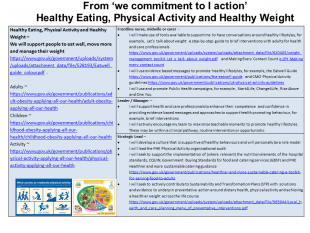 Find out more on what PHE has been doing to celebrate International Nurses' Day on the PHE blog page
Thank you
Joanne Bosanquet, Deputy Chief Nurse , Public Health England