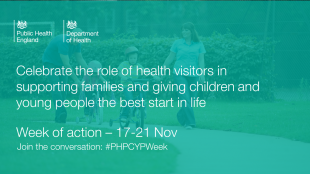 Welcome to day three our week on helping families and giving children and young people the best start to life.
This short blog is to provide a pointer for what we have coming up today and some things you may want to book for later in the week but as this is a week of 'action' we would also like to encourage you to use the week as an opportunity to post details on what you are doing, to share successes or make a pledge to do something that ensures children and young people are at the heart of what we do.
Our Twitter hashtag for this week is #PHPCYPWeek (Population Health Practice/Practitioners Children and Young People Week), so please try to use it and get us trending.
Today's theme is 'Helping Families, Children and Young People to Look After Their Health'
Among the number of partners supporting our week we are grateful to the Royal Society for the Prevention of Accidents http://www.rospa.com/ who have offered 20 free places for a training day on child safety in the home to health visitors. Please do not contact us for a place as we are not accepting applications but will trawl via NHS Area Teams when a date is fixed.
RoSPA has also produced a free e-book full of life-saving tips designed specifically for home safety professionals to help educate others on accident risks in the home. The e-book, titled 'Bringing Safety Home,' is available to those who sign up to SafetyMatters - RoSPA's free fornightly e-bulletin. Details at www.rospa.com/safetymatters/safetymatters.html
You are also encouraged to read this moving personal account by Joy Edwards following the tragic death of her daughter, Leah, in a blind cord accident http://bit.ly/1xeBCwV. Joy now campaigns to raise awareness of home safety.

Blogs coming to this site today:
Safe as Necessary – Sheila Merrill, Royal Society for the Prevention of Accidents
Improving Lives through supporting looked after children, Sharon White, SAPHNA
Child Injury: Burns – Dr Toity Deave  (Hosted by www.rospa.com)
Managing minor illness and reducing accidents, Wendy Nicholson & Pauline Watts, Department of Health
Promoting Cycle Helmets and Road Safety – Angela Lee
Playing Out: A Public Health Perspective, Claire Lowman Public Health Service Lead for Bristol City Council
The Importance of Immunisation for Children, Jill Beswick and Sharon White, SAPHNA
Immunisation: Keeping the Focus, Helen Donovan, Royal College of Nursing
Increasing awareness and understanding of children's bladder and bowel health is vital to effective management- Brenda Cheer, ERIC
Healthy Homerton - Linda Hindle, Public Health England
Audio/Video
Archive:
Today's Webchats/Twitter Chats
Wednesday, 19th Nov
11.00sm-12noon Sheila Merrill, the Royal Society for the Prevention of Accidents' (RoSPA) public health adviser, will be answering home safety questions on the @RoSPA Twitter account. #AskRoSPA (no need to book a place, just join on the day)
3.00-4.00pm Promoting Child Cyclist Safety and Helmet Use – Simple Yet So Hard - Angela Lee, Paediatric Nurse Consultant, Royal Berkshire Foundation NHS Trust
(To book a place please e-mail ian.packman@dh.gsi.gov.uk quoting WED1)
POSTPONED Reducing Hospital/GP Visits and managing minor illness webinar – Maggie Fisher, Fellow of the Institute if Health Visiting, and Wendy Nicholson, School and Community Nursing Professional Lead, Department of Health (unfortunately we have to postpone this webinar but will make arrangements to run it in a few weeks)
PHE Facebook Page
During the week we will be posting some infographics on this page. https://www.facebook.com/PublicHealthEngland
Twitter
We'll be drip-feeding throughout the day a range of facts relating to the importance of physical activity and the impact of inactivity on population health @VivJBennett
Professional Journals
Keep your eyes open for related articles appearing in professional journals during the week or on their websites (some journals will be subscription/membership access only). Articles appearing on today's theme include Maternal Mental Health – Postnatal Depression, the importance of breastfeeding for emotional well-being, health visitors and school nurses supporting asylum seekers, the impact of specialist health visitors for homeless and vulnerable families.
Nursing & Midwifery
AHP
Things to plan for the rest of the week:
Thursday, 20th Nov
8.00-9.00pm Getting it right for our children and young people - @WeNurses Twitterchat
(Join on the night. Details will appear at http://www.wecommunities.org/tweet-chats/chat-details/352)
Friday, 21st Nov
12.00-1.00pm Special Educational Needs Reforms webinar – hosted by Lynne Watson, Fellow of Institute of Health Visiting, and Wendy Nicholson, School and Community Nursing Professional Lead, Department of Health
(To book a place please e-mail ian.packman@dh.gsi.gov.uk quoting FRI1)
Other useful information, links and resources
Reducing unintentional injuries among children and young people
https://www.gov.uk/government/publications/reducing-unintentional-injuries-among-children-and-young-people
Royal Society for the Prevention of Accidents RoSPA:
http://www.rospa.com/homesafety/
http://www.familysafetyweek.org.uk/
http://www.rospa.com/bigbook/index.html
http://www.rospa.com/about/currentcampaigns/publichealth/info/delivering-accident-prevention-context.pdf
Child Accident Prevention Trust CAPT:
http://www.capt.org.uk/?gclid=CMb-rMSMhMICFcrKtAod2WkA-Q
School and Public Health Nurses Association SAPHNA
http://www.jfhc.co.uk/saphna/home.aspx
Play England: http://www.playengland.org.uk/
Playing Out:
London Play:
http://www.playengland.org.uk/streetplay
The Chief Medical Officer's Annual Report 2012:
https://www.gov.uk/government/news/chief-medical-officer-prevention-pays-our-children-deserve-better