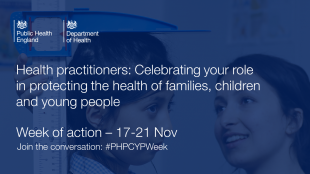 Welcome to day two our week on helping families and giving children and young people the best start to life.
This short blog is to provide a pointer for what we have coming up today and some things you may want to book for later in the week but as this is a week of 'action' we would also like to encourage you to use the week as an opportunity to post details on what you are doing, to share successes or make a pledge to do something that ensures children and young people are at the heart of what we do.
Our Twitter hashtag for this week is #PHPCYPWeek (Population Health Practice/Practitioners Children and Young People Week), so please try to use it and get us trending.
Today's theme is 'Supporting Families, Children and Young People to Protect Their Health.'  This coincides with European Antibiotic Awareness Day #EAAD2014 and as part of this day we would like to encourage you to make a pledge as part of the Antibiotic Guardian Campaign http://antibioticguardian.com/
Blogs coming to this site today:
Human Papilloma Virus (HPV) – school nurses protecting, communicating and educating – Wendy Nicholson, Department of Health
Supporting families, children and young people to protect their oral health - Barry Cockcroft, Chief Dental Officer for England and Sandra White, Director of Dental Public Health, Public Health England
The Health Professional's role in reducing SIDS – Francine Bates, Lullaby Trust
E-Bug - increasing young people's understanding of prudent antibiotic use, Beverley Hoekstra, Public Health England Find out more  http://www.e-bug.eu/
Important Role of Health Professionals in the Early Detection of Babies at Risk of Disease – Anne Mackie, Director of Secretariat for the UK National Screening Committee and NHS Screening Programmes
Introducing the Childhood Flu Programme, Tracey Beswick, Department of Health
Protecting Health – children and younger people – Antimicrobial resistance (AMR), Wendy Nicholson, Department of Health[i]
Folic acid for women who may become pregnant or in early pregnancy - Q&A and helpful links
Vitamins for a Healthy Start[ii], Tricia Morris, Department of Health
Audio/Video
Archive:
Wendy Nicholson, Professional Officer for School and Community Nursing at the Department of Health has recorded a podcast on the school nursing service and challenges for young people. Listen at http://bit.ly/1yLNcg8
Duncan Selbie, Chief Executive at Public Health England, has recorded a video message. Watch it at http://bit.ly/1oQJpOP
Listen to the first in the series of daily podcasts by Viv Bennett on the health visitor service transformation http://bit.ly/1ybp86y
Today's Webchats/Twitter Chats
Tuesday, 18th Nov
7.00-8.00pm Community Practitioners and Health Visitors Association CPHVA hosted Twitterchat
(Open to all. Join on the night using the hashtag #CPHVAtt . Learn more on chats at
http://www.unitetheunion.org/how-we-help/list-of-sectors/healthsector/healthsectoryourprofession/cphva/cphvaevents/cphva-twitter-tuesday/ )
8.00-9.00pm @WeSchoolNurses Twitterchat
(join on the night at https://twitter.com/WeSchoolNurses)
PHE Facebook Page
During the week we will be posting some infographics on this page. https://www.facebook.com/PublicHealthEngland
Twitter
We'll be drip-feeding throughout the day a range of facts relating to the importance of physical activity and the impact of inactivity on population health @VivJBennett
Professional Journals
Keep your eyes open for related articles appearing in professional journals during the week or on their websites (some journals will be subscription/membership access only). Articles appearing on today's theme include Maternal Mental Health – Postnatal Depression, the importance of breastfeeding for emotional well-being, health visitors and school nurses supporting asylum seekers, the impact of specialist health visitors for homeless and vulnerable families.
Nursing & Midwifery
AHP
Things to plan for the rest of the week:
Wednesday, 19th Nov
11.00sm-12noon Sheila Merrill, the Royal Society for the Prevention of Accidents' (RoSPA) public health adviser, will be answering home safety questions on the @RoSPA Twitter account. #AskRoSPA (no need to book a place, just join on the day)
3.00-4.00pm Promoting Child Cyclist Safety and Helmet Use – Simple Yet So Hard - Angela Lee, Paediatric Nurse Consultant, Royal Berkshire Foundation NHS Trust
(To book a place please e-mail ian.packman@dh.gsi.gov.uk quoting WED1)
POSTPONED Reducing Hospital/GP Visits and managing minor illness webinar – Maggie Fisher, Institute of Health Visiting and Wendy Nicholson, School and Community Nursing Professional Lead, Department of Health (Unfortunately we will no longer be able to run this webinar today but will find a date in a few weeks to

Thursday, 20th Nov
8.00-9.00pm Getting it right for our children and young people - @WeNurses Twitterchat
(Join on the night. Details will appear at http://www.wenurses.co.uk/ )
Friday, 21st Nov
12.00-1.00pm Special Educational Needs Reforms webinar – hosted by Lynne Watson, Fellow of Institute of Health Visiting, and Wendy Nicholson, School and Community Nursing Professional Lead, Department of Health
(To book a place please e-mail ian.packman@dh.gsi.gov.uk quoting FRI1)
Other useful information, links and resources
European Antibiotic Awareness Day:
http://ecdc.europa.eu/en/EAAD/Pages/Home.aspx
E-Bug:
Healthy Start:
http://www.healthystart.nhs.uk/
National Institute of Healthcare Excellence (NICE):
http://www.nice.org.uk/guidance/ph11/chapter/4-recommendations#folic-acid-2
The Royal College of Midwives:
https://www.rcm.org.uk/content/midwives-advise-women-to-take-folic-acid-before-pregnancy-20-02-14
NHS Choices:
http://www.nhs.uk/chq/Pages/913.aspx?categoryid=54&subcategoryid=129#close
[i] Previously published as part of our Week of Action on Health Protection, Feb 2014
[ii] Previously published as part of our Week of Action on Health Improvement, June 2014