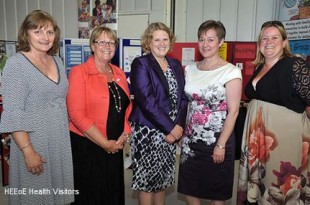 Finding out you are expecting a baby can elicit a wide range of emotions from joy and happiness to shock and devastation. Every woman will have a unique tale to tell about her pregnancy and subsequent birth, which has been a lived reality for them. The role of the midwife and health visitor in building resilience for the soon to be parent/parents is at this crucial time is vital to support the development of new skills and knowledge. The ability of these skilled professionals to walk alongside these parents is a privilege; it presents a unique opportunity to influence the health of the parents, their unborn child and also their family. Research clearly indicates that pregnancy offers the right chance to introduce many public health messages to support behaviour change for the parents and has a wider impact on the health of the whole family.
Within the East of England we have supported a collaborative approach to supporting families throughout pregnancy and postnatally. All Health Visitors have been trained in the use of the Promotional Guides (Day, 2012) to explore the emotional aspects of becoming a parent. This approach ensures the visit is parent led and ensures they set the agenda to discuss the issues that concern them the most. The Health Visitors utilising this approach have found that parents are supported to discuss their expectations about becoming parents and identify resilience and risk factors.
Working in partnership with midwifery services and other children's services is vital throughout the pregnancy and beyond. We have some excellent evidence of partnership working across the East of England – a few examples are below.
Antenatal Collaborative -Suffolk
Provides an offer of early help in the ante natal period. Families who have identified with the midwife a need for additional support and help, give permission for the M/W to involve the Health visitor and children's centre manager in their care at an earlier stage than usual. This early collaborative working helps support families to overcome their difficulties and build good working relationships with professionals which carry on after the baby is born.
Supporting high take up of antenatal contacts - East Coast Community Healthcare
As an Early Implementer site, ECCH undertook a project to increase health visitor antenatal contacts. An initial meeting with all midwifery managers and children's centre managers led to a requirement for monthly meetings between health visitors and midwives. Development of the project has now resulted in the entire midwifery caseload being reviewed monthly as a joint process between midwives and health visitors. As well as reducing the risk of insensitive contacts for women who have miscarried ; through building relationship with people on the ground and development of sustainable systems and processes ECCH health visitors now see over 95% of families antenatally.
Mothers Matter – Provide (Central Essex)
Mothers Matter is an endeavour to meet the needs of mothers with perinatal depression through the provision of a supportive and facilitated group. A collaborative approach by the children's centre and health visiting, to ensure that they receive on-going peer support and containment through psycho-education, structured discussion and shared journey of re-discovering themselves and the importance of looking after themselves. As a result women increasingly feel able to seek guidance and support going forwards and are linked in appropriately to local service provision.
Bump2Babe - Luton
Bump2Babe is a universal comprehensive multi-agency, 5 week antenatal programme. Delivered to expectant mums and their partners the programme is designed to support parents in their transition into parenthood, whilst engaging them and their families with Children Centres along with the services and resources available to them.
Each week of the programme has a theme and is delivered by the professional best suited to support the discussion and learning of that session. Leaflets and support materials are made available to attendees to encourage further reading and to ensure that key messages are given to expectant parents. The programme is designed to suit different learning styles and to make the sessions interactive in order that peer relationships can develop. Our programme is evidence based and reflects the latest research finding in neuroscience relating to infant brain development and the importance of early loving and close relationships between babies and their parents
Building Community Capacity
Innovative building community capacity projects are also helping to support parents take the lead in meeting their communities health needs. These have demonstrated that if the needs have been identified by the community the projects become self-sustaining and continue to grow once the Health Visitor input has been withdrawn. Many of the projects have been key in supporting maternal mental health. Evidence illustrates that having a good support network builds resilience in the mother to be able to cope with feelings of low mood. Parental feedback from these projects has been very positive.
It is vital that a children's services providers work together to support parents and families build their resilience in what is a transitional time in anyone's life.
Remember -
"Be outcomes focused rather than service focused"
Tracey Cogan, taken from presentation for HEEoE HV event June 2014.
Contacts for Identified projects.
Antenatal Collaborative - Suffolk County Council, Children and Young Peoples Services
Clare Slater-Robins clare.slater-robins@suffolk.gov.uk
Supporting high take up of antenatal contacts - East Coast Community Healthcare CIC
Pamela Agapiou. Pamela.agapiou@nhs.net
Mothers Matter – Provide CIC (Central Essex)
Heather Kazingizi, Health Visitor Tel: 07580911392
Bump2Babe – Luton
Nicki Burton, Children Centre Midwife nikki.ccmt@gmail.com
Health Education East of England Programme Team
Julia Whiting, Programme Lead
Helen Wallace, Locality Lead Suffolk & Norfolk
Rowena Harvey, Locality Lead Cambs & Peterborough
Sue Mills, Locality Lead Herts & Beds
Jenny Gilmour Locality Lead Essex
To contact the team please email Fiona.emblem@nhs.net.
Day, C 2012. Antenatal and Postnatal Promotional Guides.