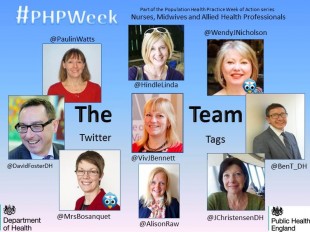 Welcome to the 5th and final day in our week of action on health improvement and health promoting practitioners. This short blog is to provide a pointer for what we have coming up today and some things you may want to book for later in the week.   Blogs coming to this site today:
Implementing Health Promotion Through All Areas of Our Work– Helen Donovan, Public Health Adviser, Royal College of Nursing
The Role of AHPs in Public Health– KaminiGadhok, MBE, CEO Royal College of Speech and Language Therapists
Practising What We Preach – Mental Health and the Workplace - Ben Thomas, Professional Officer for Mental Health, Learning Disabilities and Dementia Care, Department of Health
Experiences From the Frontline -Children's Occupational Therapy Service - Linda Hindle, Public Health AHP Lead, Public Health England Alison Raw, Professional Officer for AHPs, Department of Health
Today's Web chat
 3.30pm-5pm, Friday 27th June - Sexual Health Awareness – Web chat with Dave Evans, Senior Lecturer at University of Greenwich, hosted by the Royal College of Nursing. To book your place please e-mail Sam at nursing.dept3@rcn.org.uk
Professional Journals Keep you eyes open for related articles appearing in professional journals during the week or on their websites (some journals will be subscription/membership access only). The Nursing Standard has released a special public health edition this week to coincide with our week of action. An interview with Viv for Independent Nurse can already be found at http://bit.ly/1kN7nSu. There is also an interview with Alison Raw , DH AHP lead, on the Chartered Society of Physiotherapy website: Nursing & Midwifery
AHP
Chartered Society of Physiotherapy - Frontline
College of Occupational Therapists - OT News
Society of Radiographers - Synergy News
The British Dietetics Association - Dietetics Today
Royal College of Speech and Language Therapist - Bulletin
The Society of Chiropodists and Podiatrists - Podiatry Now
British and Irish Orthoptic Society - Parallel Vision
Visits: On the road today we have: Viv Bennett is out and about with the TB Treat and Find team in Camden Joanne Bosanquet will be speaking at the British Liver Disease Forum's Conference Pauline Watts will be in Henley today viting their health visiting team Jean Christensen is visiting Allied Healthcare at Kidlington    Thank you for following us this week.