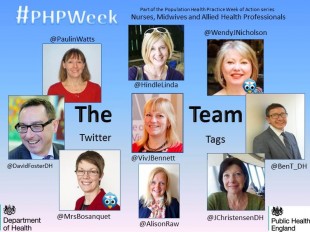 Welcome to the start of our week on health improvement and health promoting practitioners.

This short blog is to provide a pointer for what we have coming up today and some things you may want to book for later in the week.
Our Twitter hashtag is #PHPWeek (Population Health Practice/Practitioners) which we hope to stick with for future weeks of action and you'll see on the image of our team of Professional Nursing, Midwifery and AHP Officers (click image to enlarge) their individual Twitter tags if you wish to follow them.
Today is about introducing the subject, getting discussions started and our enthusiasm flowing.

Blogs coming to this site today:
Introduction to Week of Action - Viv Bennett, Director of Nursing, Department of Health and Public Health England
Allied Health Professionals : Are You A Health Promoting Practitioner?– Alison Raw, Professional Officer for AHPs, DH and Linda Hindle, Public Health AHP Lead, PHE
Making Every Contact Count (MECC): Taking a System Wide Approach- Sophie Taysom, Programme Manager, DH (if you are interested in this blog why not join our webinar today on behaviour change interventions - see below for details)
Personalised Care and Population Health in a Care Home setting – Kate Hall & Laura Simpson, Registered Care Home Managers
Experiences from the Frontline – Care Home Visit – David Foster, Deputy Director of Nursing, DH
Audio/Video
We'll be posting a short podcast interview between Viv Bennett and David Foster, Deputy Director of Nursing at the Department of Health, in which Viv outlines her vision on public/population health (a link will be Tweeted and embedded in Viv's introductory blog)
Kevin Fenton, National Director for Health and Well-Being at Public Health England, provides his thoughts on the importance of the contribution of nurses, midwives and AHPs in a short video clip (a link will be Tweeted and embedded in Viv's introductory blog and Kevin will expand further on this issue in his blog tomorrow)
Today's Webchats/Twitter Chats
12.30-1.30pm Monday 23rd June – Behaviour Change Interventions – webinar hosted by Denise Thiruchelvam and Josephine Johnson of NHS England. To book a place please e-mail: ian.packman@dh.gsi.gov.uk (If you are interested in this webinar you may also want to join Jan Proctor King's webinar on Thursday - details below - or read Sophie Taysom's blog on Making Every Contact Count)
8pm Monday 23rd June – Public Health and Allied Health Professionals– Twitter chat hosted by @Physiotalk but for all AHPs. Join via : http://physiotalk.co.uk/ to discuss and explore the role of AHPs in public health.
Twitter
We'll be drip-feeding throughout the day a range of facts relating to the importance of physical activity and the impact of inactivity on population health
Professional Journals
Keep you eyes open for related articles appearing in professional journals during the week or on their websites (some journals will be subscription/membership access only). An interview with Viv for Independent Nurse can already be found at http://bit.ly/1kN7nSu and Nursing Standard have run an article on the forthcoming Framework for Personalised Care and Population Health in last week's edition (vol 28 No 42 June 18-24 June). There is also an interview with Alison Raw , DH AHP lead, on the Chartered Society of Physiotherapy website:
Nursing & Midwifery
AHP
Chartered Society of Physiotherapy - Frontline
College of Occupational Therapists - OT News
Society of Radiographers - Synergy News
The British Dietetics Association - Dietetics Today
Royal College of Speech and Language Therapist - Bulletin
The Society of Chiropodists and Podiatrists - Podiatry Now
British and Irish Orthoptic Society - Parallel Vision
Things to plan for the rest of the week:
10am-11.30am, Tuesday 24th June - Eat, Sleep, Drink – web chat on children and young people 0-19yrs with Pauline Watts and Wendy Nicholson. To book your place please e-mail fiona.hill@dh.gsi.gov.uk
10am-11.30am, Wednesday 25th June – Eat, Sleep, Drink – (for details on booking a place see Tuesday)
3pm, Wednesday 25th June - AHP – Are You A Health Promoting Practitioner? – webinar hosted by Linda Hindle, Public Health England, and Alison Raw, Department of Health. Book a place with Olabisi.osiade@dh.gsi.gov.uk
1.00pm-1.45pm, Thursday 26th June– Keep Your Hands Off Other People's Monkeys (Behaviour Change Interventions)– webinar with Jan Proctor King. To book a place please e-mail: ian.packman@dh.gsi.gov.uk (also see Monday's webinar with Denise Thiruchelvam and Josephine Johnson on behaviour change intervention)
8pm, Thursday 26th June -  How can we all be health promoting practitioners? – Twitter chat hosted by @WeNurses. For more details use link @WeNurses Twitter Chat
3.30pm-5pm, Friday 27th June - Sexual Health Awareness – Web chat with Dave Evans, Senior Lecturer at University of Greenwich, hosted by the Royal College of Nursing. To book your place please e-mail Sam at nursing.dept3@rcn.org.uk